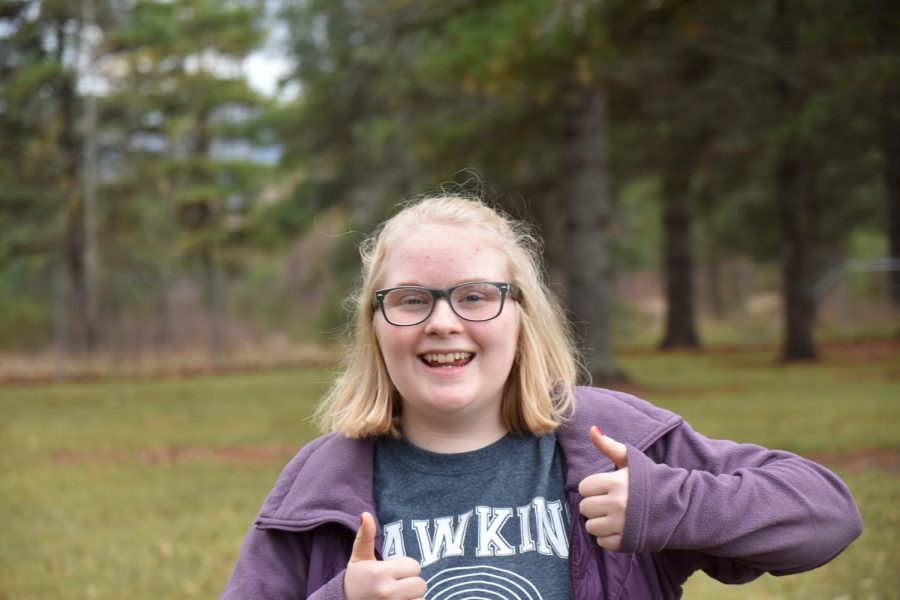 Corinne Capodagli is a senior and it is her second year on staff. Here are some fun facts about Corinne.
What word do you repeat at least 10 times a day?
"LOL," even if life is not going my way, I find that if you stick one of these bad boys on, your day gets exponentially better.
What did your life look like 5 years ago?
Five years ago, I was chillin' like a villain back in middle school with a flip-phone and silly bandz.
What weird sound do you love?
The sound of my own voice, who else would I go to for solid advice?
Corinne Capodagli, Editor-in-Chief
May 09, 2019

CPODCAST: TEACHER APPRECIATION DAY

(Story)

May 07, 2019

CLIMATE STRIKE

(Story/Media)

May 01, 2019

CPODCAST: DECLARATION DAY

(Story)

Apr 28, 2019

THE SEARCH CONTINUES

(Story)

Apr 26, 2019

CPODCAST: MUHAMMAD FISH

(Story)

Apr 23, 2019

A DAY IN THE LIFE

(Story/Media)

Apr 19, 2019

CPODCAST: SHAWN WOODWARD

(Story)

Apr 16, 2019

ONE OUT OF TWO

(Story/Media)

Apr 13, 2019

SHAKE(SPEARE) IT UP

(Story)

Apr 12, 2019

AS CLEAR AS A BELL

(Story)

Apr 11, 2019

DOWNTOWN DISPLACEMENT

(Story)

Mar 16, 2019

IT'S A HARD KNOCK LIFE AT SHS

(Story/Media)

Feb 28, 2019
Jan 29, 2019

SOCIAL MEDIA SUPREMACY

(Story)

Jan 22, 2019

1 MINUTE DEBATE: AIRPODS

(Story)

Jan 15, 2019

GIRL'S BASKETBALL BEATS MOSCOW

(Story)

Jan 10, 2019
Dec 19, 2018

CP INTERVIEW: MIKE SMITH

(Story)

Nov 21, 2018

TAKING TIME TO BE THANKFUL

(Story)

Nov 08, 2018

FIRST-TIME VOTERS

(Story)

Nov 01, 2018

THE HE(ART) OF IT ALL

(Story/Media)

Oct 30, 2018

FROM DREAMS TO REALITY

(Story)

Oct 24, 2018

INKTOBER INSPIRATION

(Media)

Oct 04, 2018

WHAT IT MEANS TO BE ROYAL

(Story)

Sep 11, 2018

TESTING LIFE HACKS

(Story)

May 04, 2018

THE ART OF PERFORMING

(Story/Media)

Apr 15, 2018
Apr 12, 2018
Mar 19, 2018

TOO LITTLE, TOO LATE TO HELP

(Story)

Mar 02, 2018

WALKOUT FOR PARKLAND

(Story)

Feb 28, 2018

A "STORMI" BREWING OVERHEAD

(Story)

Feb 09, 2018

DIVERSIFYING "THE BACHELOR"

(Story)

Jan 10, 2018

BREAST CANCER AWARENESS NIGHT

(Story)

Dec 21, 2017
Nov 15, 2017

HOW TO (TRY TO) GET HARRY STYLES TO FOLLOW YOU BACK

(Story)

Oct 31, 2017

ACCESS-IBLE RESOURCES

(Story)

Oct 23, 2017

SHOULD HALLOWEEN BE SPOOKY OR CUTE?

(Story)

Sep 15, 2017

HOW TO ASK SOMEONE TO HOMECOMING

(Story)

Sep 06, 2017

POINT & COUNTERPOINT: HATE SPEECH

(Story)