IT'S A HARD KNOCK LIFE AT SHS
SHS Theater puts on spring musical of Annie, including students of all ages from across the district
The Sandpoint High School theater program is gearing up for this year's musical, Annie, as they work towards involving students of all ages from across the district.

"I'm excited to have the little kids be more in the forefront this time because in a lot of the other plays, they've kind of taken background to everybody else and this is their time to shine and for the older kids to really support them and also to shine as well," Theater teacher Jeanette Hunter said.

Though Hunter is directing, students continue to maintain a large role in the production, many taking on behind-the-scenes duties.
"I'll be sitting up in the tech booth, I basically just direct the running crew and the lights and the sounds and I kind of give them [the crew] their cues and then if any problems happen during the show, I have to fix those," Senior Emma Ferguson, the musical's stage producer, said.

Though the production is slated for a March opening, the preparations began close to a year ago.

"We decided to do this March of last year and have been planning and talking and working, we met over the summer, we met again over Christmas," Hunter said. "We start generally over a year [ahead], so I have to decide what we're doing next year now."

The production team worked hard to have a representation of all ages in the musical.

"We've had little kids in all of our productions since we started Growing Dreams, so that's been a  perpetual, perpetual importance for us," Hunter said. "We had the little girls all sing together during callbacks and it was just, it was so wonderful, so already characters are really starting to develop."

Lead, Burton Anderson, enjoys working with younger actors, citing their excitement to participate.
"This is my third musical with Growing Dreams Productions, so it's my third experience working with actors that are not in high school. It's just really cool to have their pure energy and they're just like really good at listening for the most part," Anderson said.
The production team eagerly awaits for Annie to showcase, "I'm just excited to watch it, I'll be working behind the scenes while it's going on, but I just want to watch it so badly in its entirety because already it's so cute and amazing," said Ferguson.
About the Contributor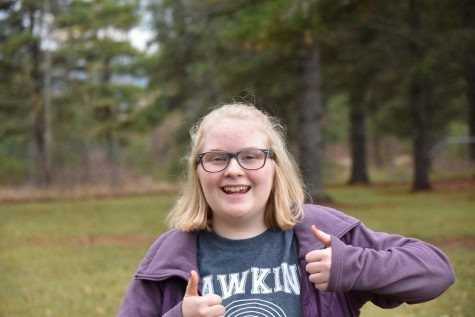 Corinne Capodagli, Editor-in-Chief
Corinne Capodagli is a senior and it is her second year on staff. Here are some fun facts about Corinne.

What word do you repeat at least 10 times a...