Getting Thrifty
5 Trendy Tips for the Conscious Consumer
In addition to being a trendy outlet to find original, one-of-a-kind, vintage clothing pieces, thrift shopping is an eco-conscious and accessible alternative to fast fashion. The intrigue of lower prices, size and style options, and environmental responsibility are tempting to many, but you just might not know where to start. Here are some helpful tips for thrifting beginners who want the most bang for their buck while also keeping clothing out of landfills, giving back to the community, and looking cute while doing it. 
Keep it Basic
When going thrift shopping, plan on wearing a basic outfit with minimal patterns or loud colors in order to pick out things you normally might not choose. Neutral colors, basics, and jeans are all simple clothing choices that will allow you to focus on what you're looking for instead of what you're currently wearing. To avoid clashing and allow for new pieces to flow, consider a plain shirt and jeans, so if by chance you find yourself looking at a brightly patterned sweater, it will blend easily and you will get a clearer understanding of whether or not you can style it. 
Create your Ambiance 
Prepare for an easy and pleasant experience by creating your own individual atmosphere. Make thrifting feel like a recreational hobby instead of a task or errand. Pop in some headphones, caffeinate yourself, and make sure you have plenty of time to enjoy your shopping experience. Even if you aren't planning on buying a lot, consider grabbing a cart to free up your hands so you can fully focus on your fresh finds. Keep it easy and breezy, be patient, and avoid trying to multitask. 
Thrift Outside the Box
Shopping in sections you're comfortable with will only take you so far. To truly find hidden gems you might consider trying out different size, age, and gender sections. If you usually shop in the women's section, check out the men's section to spice things up, and if you usually only shop men's items, try out the larger women's or XXL youth section. Don't overlook maternity wear, children's clothing, and housewares, because every section has something different to offer, and they all have unique strengths and weaknesses. 
Picture the Potential 
Try not to look at the item's current condition, and instead picture what it could be turned into. By means of upcycling, cropping, dyeing, bleaching, or reworking, you can turn something mediocre into something one-of-a-kind. Look for patterns, washes, or textures that stand out with the idea in mind that it can always be flipped into something completely different. Shirts or pants that don't quite fit right can be tailored or cropped, and perfectly fitted clothes with strange colors or patterns can be bleached or dyed. Every item has hidden potential, as long as you picture it with patience and creativity. 
Count on the Discount 
Keeping track of both tag and bag sales can save you both time and money, but these sales vary from store to store, so make sure you know when and where they're happening. The most common type of thrift store sale is based on tag color in correspondence to day of the week, such as "20% off green tags on Tuesdays." This is a helpful thing to keep track of so you can know what to look for on certain days. Some stores will have a "fill a bag" sale in which you can bulk-buy clothing and goods by the bagful, with a set price for a bag. These sales are especially important because the initial clothing prices are disregarded, letting you get more clothing for lower prices. 
About the Contributor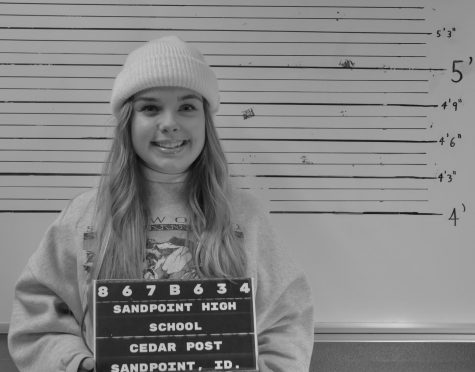 Della Wheatcroft, Lifestyle Editor
What takes up too much of my time? 

I would have to say that it is a three-way tie between tiktok, crocheting, and thrifting.


If you had to choose...