THE ART OF PERFORMING
Students Participate in a New Class at SHS
Hang on for a minute...we're trying to find some more stories you might like.
As the school year began, SHS saw an influx of new students and new classes. A popular class amongst many this year is Performance Psychology, taught by teachers Scott Fitchett and Connor Baranski.
"The idea essentially was to have a class that focuses on the psychology behind people that perform at high levels," Baranski said.
"One of the overall goals is to help people with these psychological issues that have held them back. It's confidence, stage fright, those sorts of things, really."
The class serves as an outlet for students to build skills that will help them cope under high pressure circumstances.
"We wanted to allow students the opportunity to work on the things that are holding them back, [that] they don't get to practice," Fitchett said.
Performance Psychology students were pushed out of their comfort zones the first week, as they performed a variety of different baseline tests that would serve as a comparison for self- improvement later on in the semester.
"Baseline are these random activities, some of them are athletic, some of them are not," Baranski said. "One's musical, one's kind of based on theatre, and the idea is getting people in front of their peers and being forced to perform."
Fitchett and Baranski were seen on Wednesday's morning announcements, announcing the five highest and lowest performing students who participated in the baseline activities.
"Generally the tasks are such that anyone can do them," Baranski said. "So, that ranking is [about] your ability to perform and we recognize that it is savage, but the whole gist of the course is trying to figure out how to perform well under pressure; perform well when there are real consequences, like getting your name shouted out for not being good enough."  
Students like Senior Chloe Braedt, are hopeful that their baseline results will improve as the class continues.
"I do believe that my results will improve by the end of the year, I'm not sure how much, but after taking this class I'm sure they will," Braedt said.
Fitchett and Baranski hope to inspire courage and improvement in their participants.
"One of our bigger goals too is just creating real confidence in students," Fitchett said. "The ability that no matter what the task is, that they can perform it adequately." Fitchett said.
Braedt said: "Improvement is important to me because without solid improvement you can rarely feel accomplishment. I love challenging myself to improve and I hope this class will help me do just that."

About the Contributor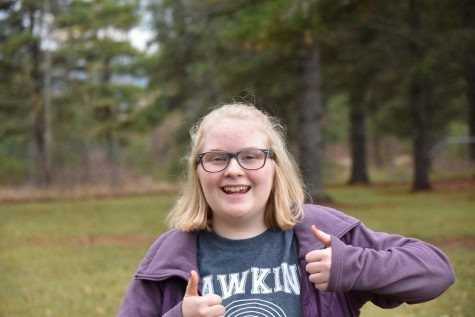 Corinne Capodagli, Editor-in-Chief
Corinne Capodagli is a senior and it is her second year on staff. Here are some fun facts about Corinne.

What word do you repeat at least 10 times a...