DANCING IN SANDPOINT
Maria Sallent shares her experiences with the dance team
Hang on for a minute...we're trying to find some more stories you might like.
For Maria Sallent when coming to the United States everything was different for her, even her sport, dance.
Sallent started to take classes when she was seven and in Spain, she went to studio classes in jazz, ballet and contemporary. She was part of a competition team that practiced four hours every friday to learn choreography along with taking nine hours of jazz, ballet and contemporary.
"We always did the same [thing] and at the end it was pretty boring." Sallent said.
Sallent joined the Sandpoint High School Dance Team after coming to the United States where she auditioned with Coach Laurie Buck and Assistant Coach Sara Savage before being allowed on the team.
"I believe she has a great potential to become much more of a wonderful and talented dancer than she already is," Savage said.
While on the dance team, she has already learned over five dances in varying styles and techniques such as hip hop, kic and prop which she has never done before.
"Here, you learn a lot of different dances and everyday you do different things and I like that," Sallent said.
She's had to expand her vocabulary to accommodate skills and moves that had different words than what the dance team calls them. She would look up to figure out what words meant and is still trying to figure out certain skills.
"It was a little bit hard at the beginning because I didn't know what to do."
While past foreign exchanges students have been able to compete in competitions like districts and state, Sallent is unable to compete as she hoped because her exchange program was set up with her being placed into a certain family rather than being placed randomly.
"I would really love to compete at the state so I'm sad about that," Sallent said.
Even though she's not able to compete, she is still being put into many of the dances that will allow her to be part of the dance team's end of the year show.

About the Writer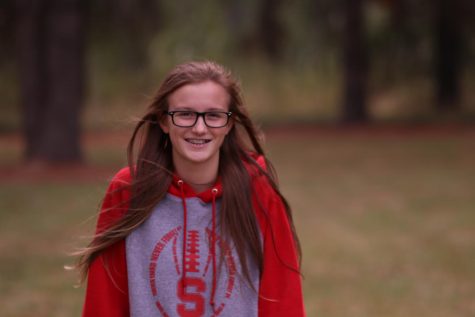 Ahna Groat, Assistant Web Editor