Changing it Up
An overview of the administrative changes being made in the Lake Pend Orielle School District next year.
In anticipation of next school year Current Superintendent Tom Albertson and next year's new superintendent, Becky Meyer, have made the decision to switch some administrative positions around. Current principal of Sandpoint Middle School, Kari Granier, is being moved to Sandpoint High School to take over the position of Vice Principal. Current Principal of LPO Alternative School, Geoff Penrose, will be taking over her position. "I am overjoyed! I love middle schoolers" said Penrose, "I spent the first six years of my career as an administrator of Middle Schools so it's kind of like going home for me." Penrose says that his biggest challenge will be to not mess things up. "Sandpoint Middle is already functioning at a pretty high level. I will go in and try to integrate myself with their excellent culture of teacher leadership and professional learning communities."
Taking the place of Penrose at LPO High School will be our very own principal David Miles. Miles said that he asked for a change in placement to be able to spend more time with his growing family, "As much as I enjoy going to shows and sports it also took time away from my family so I wanted a position where maybe I could spend a little less time doing that," said Miles, "I've got a young family that I want to be able to spend time with." Miles said that although he is excited for a change in positions it also comes with a loss of familiarity, "this is where I graduated and taught for 10 years and spent the last 3 here as well so I've made a lot of friends." Overall Miles is excited for a new challenge, feels that he fits the position well, and is excited to have a smaller staff and less kids so he will be able to build relationships with each individual. "I have a very shared experience with a majority of the students. I was homeless for an extended period of time, my parents were in and out of jail for drug use." Miles said that his background will be one of his biggest assets in joining this new position. Miles wanted to thank everyone for the support he has received over his 3 years as principal, "I hope I made a positive impact" said Miles, "I really enjoyed my time at SHS. I hope everyone understands I'm not making this move because I didn't like it here, I really love it here. It's really all about trying to create as much time as I can for my family while they're still young." As for the open principal position next year at SHS, current Assistant Principal, Derek Dickinson was offered the position but ultimately decided to turn it down, "It was a very difficult decision" said Dickinson, "Being the principal would have been a huge honor yet a major undertaking in my life. It is better for myself personally and for my family for me to remain in my current position at this time." Dickinson said that he is excited to continue his work as the Vice Principal at Sandpoint High School and looks forward to being a part of the hiring process for a new principal at SHS.
About the Contributor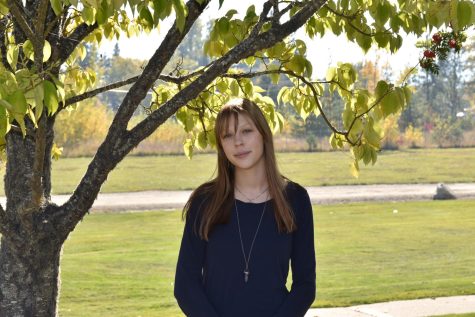 Lucy Allen, Editor-In-Chief
What is your favorite color?

Pink

What is the most underrated movie?

Howls moving castle

What is one word that best describes your life?

Groovy