Early Morning Jitterz
A quick review on the newest coffee shop that Sandpoint has to offer.
 The newest Sandpoint coffee shop Jitterz is located in Sagle at 11 Harbison Lane, it is open from 4:30 am to 7:00 pm. Jitterz is a North Idaho chain with multiple stands in Hayden, Coeur d'Alene, and Post Falls.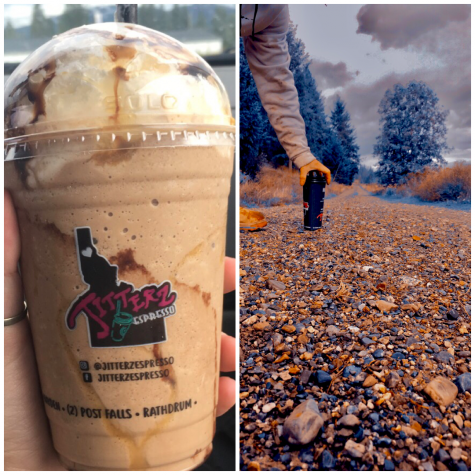 The delicious drink in the picture on the left is blended and called the Snickers Granita, it tastes and looks amazing. It's made out of chocolate, caramel and whip cream and only took 5 minutes to make. The drink on the right is a Double Irish Cream Latte, it's only $4 and tastes like heaven. If you like sweet drinks that aren't too sweet then this drink would be perfect for you.  It can be served hot or iced but it tastes good either way, and the total wait time was 6 minutes. Plus, the customer service is always friendly and great here, resulting in a fantastic review of a 10/10 for the newest addition to Sandpoint coffee.