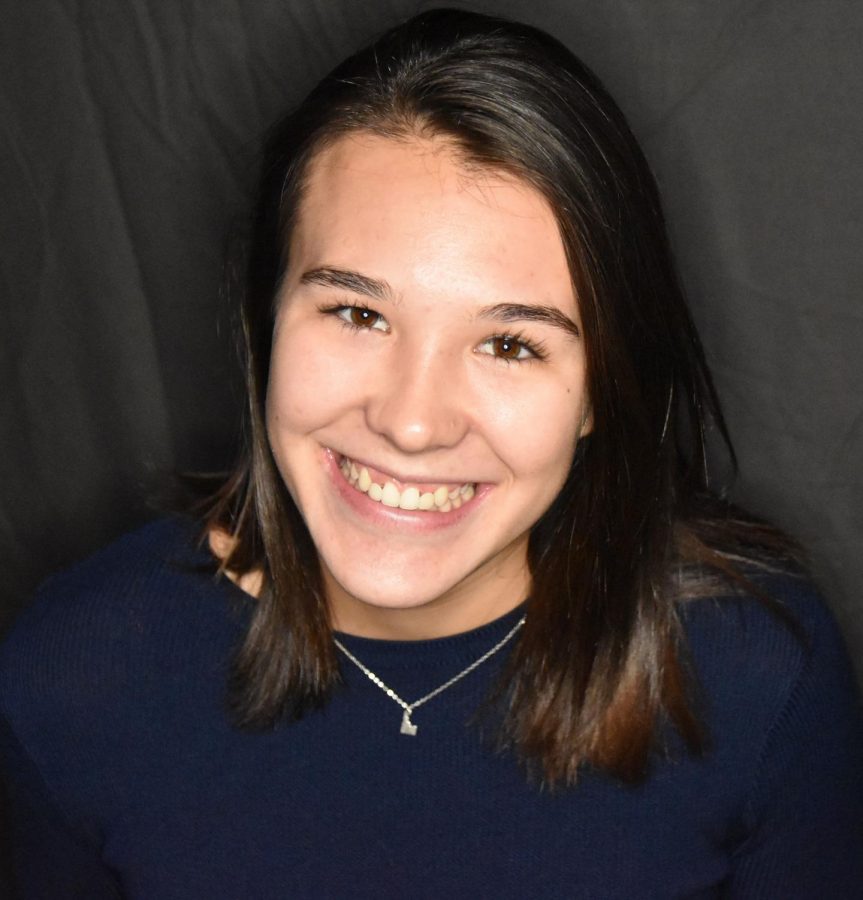 What's the last movie you cried? 
The last movie I cried at was Someone Great… and I've watched it 4 times. BEST movie ever.
What would be the coolest animal to scale up to the size of a horse?
The coolest animal as the size of the horse would be a piglet.
What is your favorite day of the year?
My favorite day of the year is halloweekend, birthday seasonnnn.
Shea Kilpatrick, Senior Managing Editor
Feb 03, 2020

GRADUATION LETTER

(Story)

Dec 13, 2019

CP REVIEW: DISNEY+

(Story)

Nov 04, 2019

MEET THE EXCHANGE STUDENTS

(Story)

Oct 18, 2019

2019 FINANCE FAIR

(Story)

Sep 27, 2019

DRESS FOR HOCO SUCCESS

(Story)

Sep 13, 2019

FOOTBALL RUNS OVER UNIVERSITY

(Story)

Sep 11, 2019

BLIND STUDENT ADJUSTS TO HIGH SCHOOL

(Story)

Apr 27, 2019

MOVIE NIGHT: PROM EDITION

(Story)

Apr 24, 2019

WOODWARD'S LEGACY IN 5

(Story)

Apr 13, 2019

SHAKE(SPEARE) IT UP

(Media)

Apr 08, 2019

HOME SWEET HOMEGROUP

(Story)

Mar 30, 2019

SENIORS AT WORK: MURAL MARK

(Story)

Mar 26, 2019

WORK IT AT THE CIRCUIT

(Story)

Mar 23, 2019

SHAKESPERIENCE: AS YOU LIKE IT

(Story/Media)

Mar 13, 2019

CUSTOM IDEA, CUSTOM WEAR

(Story/Media)

Feb 05, 2019

MOST ANTICIPATED MOVIES OF 2019

(Story)

Jan 30, 2019

1 MINUTE DEBATE: COFFEE SHOP

(Story)

Jan 27, 2019

1 MINUTE DEBATE: CHOCOLATE

(Story)

Jan 14, 2019

BOY'S BASKETBALL FALLS TO MOSCOW

(Story/Media)

Jan 11, 2019

PERFORMANCE PSYCH FINALS

(Story/Media)

Dec 23, 2018

ON THE HOUSE: CHRISTMAS EDITION

(Story)

Dec 17, 2018

ONE OF DRAMA'S FINEST

(Story)

Dec 14, 2018

BOY'S BASKETBALL EDGES ST. MARIES

(Story)

Dec 03, 2018

WRESTLING VS PRIEST RIVER

(Story/Media)

Nov 24, 2018
Nov 21, 2018

ON THE HOUSE: THANKSGIVING EDITION

(Story)

Nov 13, 2018
Nov 02, 2018

2018-19 WINTER WEATHER PREDICTION

(Story)

Oct 31, 2018

ON THE HOUSE: HALLOWEEN EDITION

(Media)

Oct 16, 2018

DISTRICT FINALS VS MOSCOW

(Story/Media)

Oct 15, 2018
Oct 03, 2018

2018 POWDERPUFF PREVIEW

(Story)

Sep 20, 2018

FALL TRENDS

(Story/Media)