ONE OF DRAMA'S FINEST
Erica Etzwiler astounds judges at District and State competition.
Hang on for a minute...we're trying to find some more stories you might like.
Junior Erica Etzwiler may be a small statured sixteen year old, but her level of talent goes far beyond her size.
Etzwiler only began drama competition this year, but has already landed a first place position at the recent district and state competitions, receiving a perfect score at state, an unheard of accomplishment in the SHS drama program. "I had only done two solo scenes before competing." Etzwiler said, an accomplishment not many can claim to have.
Etzwiler's talent has not gone unrecognized, "She has grown in how she is present and in the moment during performance, she allows us to share an experience with the character, her commitment and skill shines through," Jeanette Hunter, SHS drama teacher, says.
At districts, Etzwiler performed a solo performance about the 1999 Columbine high school massacre where 13 people were brutally murdered, along with injuries upon 24 more.
"
To really believe a piece, you have to put yourself there, while acting I know what the actual room looks like in the school."
— Erica Etzwiler
For a month and a half, Etzwiler dedicated her time into educating herself on the tragedy, in order to deliver nearly eight minutes of surreal emotion in which she acts as if she's reliving her experience of such a horrific event.
"To really believe a piece, you have to put yourself there, while acting I know what the actual room looks like in the school," Etzwiler explains.
Etzwiler did an impeccable job conveying the depth of the scene, especially through the art of silence, "I almost had the judges in tears," Etzwiler said. The added blank space in her performance in which she utilized silence, making facial expression and body language critical, is what really gives the piece its meaning.
This success did not come without failure. "I did this piece two times at a showcase for the school and forgot my lines both times, I kind of just sat there on stage and had no idea what I was doing, skipped a bunch of my lines, and just got off stage," Etzwiler said.
Drama hasn't been all about the competitions for Etzwiler though, who recalled that by joining she hoped to gain experience and exposure. However, drama quickly began to make Etzwiler feel more at home, receiving support from peers through the stage. "Drama forces you up on stage in front of people that are very supportive, they're not going to be cruel to you," Etzwiler explains.
Etzwiler, despite her small size has impressed a vast amount of depth upon not only prestigious state judges, but students of all kinds as well.

About the Writer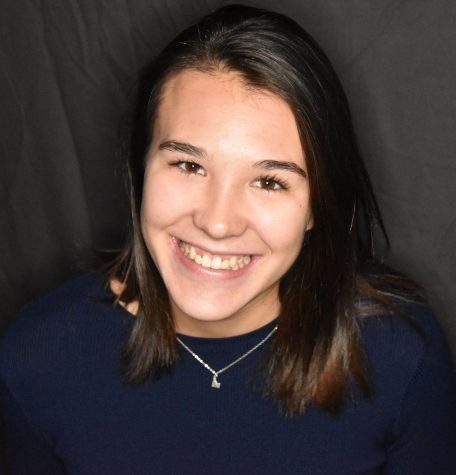 Shea Kilpatrick, Senior Managing Editor
What's the last movie you cried? 

The last movie I cried at was Someone Great… and I've watched it 4 times. BEST movie ever.

What would be...