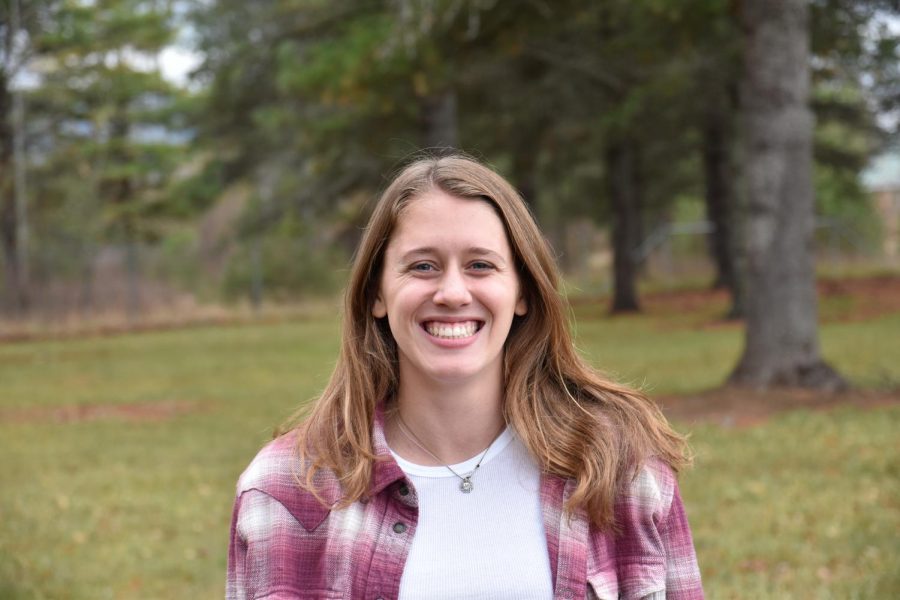 Addi House is a senior and it is her second year on staff. Here are some fun facts about Addi.
What's the last movie you cried at?
After I had my wisdom teeth removed, I took painkillers and then I watched  "The Sisterhood of the Traveling Pants" which really got to me. It was just too good.
What takes up too much of your time?
Honestly, most of my time consists of wasting time through procrastinating. Usually I'll do many activities after school that allow me to not start my homework before 8PM.
What's the first thing you do when you get out of bed?
I usually snooze my alarm about eight times and then when my mom yells for me to get up I lie and say that I'm getting dressed, while I remain under the covers.
Addi House, Lifestyles Editor
Apr 01, 2019

THE (SNOW) GHOST OF CHAIR SIX

(Story)

Mar 26, 2019

WORK IT AT THE CIRCUIT

(Story)

Mar 11, 2019

KJETIL: THE GUITAR HERO

(Story)

Feb 20, 2019

1 MINUTE DEBATE: PIE V. CAKE

(Story)

Feb 07, 2019

BOY'S BASKETBALL TAKES ON T-WOLVES

(Story/Media)

Dec 23, 2018

ON THE HOUSE: CHRISTMAS EDITION

(Story)

Dec 16, 2018

ALTERNATIVE HOLIDAYS

(Story)

Dec 14, 2018

BOY'S BASKETBALL EDGES ST. MARIES

(Story)

Nov 27, 2018

2018 BOY'S BASKETBALL PREVIEW

(Story)

Nov 24, 2018
Nov 21, 2018

ON THE HOUSE: THANKSGIVING EDITION

(Story)

Nov 12, 2018

VETERAN'S DAY ASSEMBLY

(Story/Media)

Oct 31, 2018

ON THE HOUSE: HALLOWEEN EDITION

(Story)

Oct 28, 2018

HÖLLVIKEN HYPEBEAST

(Story/Media)

Oct 15, 2018
Oct 09, 2018

HOMECOMING FOOTBALL GAME

(Story/Media)

Oct 04, 2018

WHAT IT MEANS TO BE ROYAL

(Media)

Oct 02, 2018

VARSITY SPORTS & HOMECOMING KICKOFF ASSEMBLY

(Story/Media)

Sep 18, 2018

A WORLD EDUCATION

(Story)

Mar 31, 2018

THE BEST FEMALE TELEMARK RACER IN THE US

(Story)

Mar 29, 2018

TOO JUUL FOR SCHOOL

(Story)

Mar 21, 2018
Mar 16, 2018
Jan 23, 2018
Jan 11, 2018

SWEETEN UP THE HOLIDAYS

(Story)

Nov 23, 2017

THANKSGIVING CASSEROLE OR CAROLERS?

(Story)

Nov 20, 2017

BLOWING THEM ALL AWAY

(Story)

Nov 15, 2017
Oct 31, 2017
Oct 15, 2017

BOYS SOCCER: ON TO STATE

(Story)