SWEETEN UP THE HOLIDAYS
The holidays wouldn't be the holidays without delicious foods. This recipe makes for the perfect seasonal treat for friends, family or yourself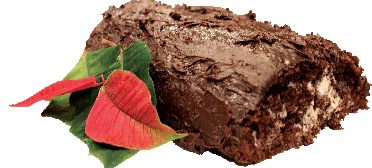 Yule Log
Ingredients 
Cake:
6 eggs
1 box devil's food cake mix
½ cup water
¼ cup vegetable oil
1 tablespoon powdered sugar
Chocolate Frosting:
½ cup whipping cream
1 cup semisweet chocolate chips
1 tablespoon corn syrup
¼ teaspoon vanilla
Filling:
1 container vanilla frosting
Cake Recipe
1. Heat oven to 375°F (350°F for dark or nonstick pan).
2. Line bottom only of 15x10x1-inch pan with foil or waxed paper and spray with baking spray with flour. Place paper baking cups in 8 regular-size muffin cups.
3. In large bowl, beat eggs with electric mixer on high for 5 minutes or until thick and lemon colored. Add cake mix, water, and oil and beat on low for 30 seconds, and medium for 1 minute, scraping bowl
occasionally.
4. Pour 3 1/2 cups batter into pan. Divide remaining batter among muffin cups.
5. Bake 14 to 16 minutes and toothpick inserted in center comes out clean.
6. Run knife around edges of pan to loosen cake, and turn upside down onto clean kitchen towel sprinkled with 1 tablespoon powdered sugar. Carefully remove foil.
7. Place kitchen towel of similar size on top of cake.
8. While hot, carefully roll up cake and towel. Cool cake for 1 hour and cupcakes for 10 minutes on cooling rack.
9. Unroll cake carefully, and remove towel.
10. Spread filling evenly over cake and roll up.
11. Place cake roll on cooling rack and frost. Using fork, drag tines through frosting in a wood grain pattern.
Frosting Recipe
1. In medium bowl, microwave
whipping cream uncovered for 1
minute to 1 minute 30 seconds or until it begins to boil.
2. Stir in chocolate chips and corn syrup and let stand 3 minutes.
3. Beat gently with wire whisk until smooth then beat in vanilla.
4. Refrigerate for 1 hour, stirring
every 15 minutes.