GREEN THUMBS UP
Locals work together to protect the environment and advocate for change
Hang on for a minute...we're trying to find some more stories you might like.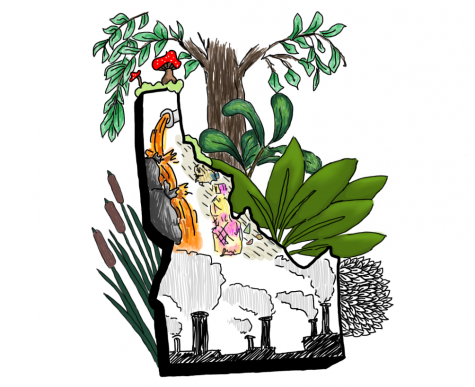 Though Sandpoint is virtually untouched by the growing environmental damage visible throughout the rest of the Earth, it is a hotbed of conversation and activism amongst citizens defending it.
"The planet is in a world of hurt right now," environmental science teacher John Hastings said. "[There are] many problems, simple things like water and air pollution that we don't have to deal with here so much in North Idaho, and then we have major problems like climate change."
Dictionary.com defines climate change as a long-term change in the earth's climate, especially a change due to an increase in the average atmospheric temperature.
Senior Felice Caven witnessed the effects of climate change firsthand over spring break while scuba diving in Fiji, where only two out of ten coral reefs were still colorful and alive.
"It was really sad," Caven said. "There wasn't any sign of marine life on the dead ones and if they weren't dead they were dying."
Caven's experience across the globe reflects the magnitude of environmental damage that exists today.
"It's important to be environmentally conscious in Sandpoint because climate change is affecting everywhere," Caven said.
According to NASA, ninety-seven percent of climate scientists agree that climate-warming trends over the past century are very likely due to human activities, but the validity of the theory is still disputed from federal-level officials to citizens.
"We don't listen to science the way  we used to in this country," Hastings said. "The people who represent us are not representing us; they are representing the forces of industry."
Hastings said that the most important thing for students to do is vote, or get involved in political campaigns that support the Earth.
An Idaho public survey conducted by Boise State University revealed that 72 percent of people in Idaho believe climate change is happening.
Additionally, there is some skepticism and speculation amongst citizens regarding the cause of climate change. Junior Liz Kempton is one person who doesn't accredit climate change to mankind.
"I don't think that climate change is really a huge issue because the world goes through cycles of carbon emission and we may just be in one of those periods [when there are really high amounts of carbon emission]," Kempton said. "It's still important to take care of our earth, but I think people get really worked up about something that isn't really that big of an issue."
350 Sandpoint, a chapter of the international conservation organization 350.org, welcomes students to join them in their efforts to protect the planet.
"We can choose to take care of the earth and of each other," President Jean Gerth said. "There really isn't any other alternative."
On April 29, 350 Sandpoint led a People's Climate March that was attended by locals of all ages.
In attendance was senior Maya Pignolet, founder of  SHS's new Sustainability Club.
"The thought that the Earth's resources are here for our use, and our use alone is ridiculous to me," Pignolet said.
Sustainability Club hopes to implement a school wide recycling program, and create a pollinator friendly garden.
"I'm in Sustainability Club because I care about the future of our planet and the welfare of those living on it," sophomore Kieran Wilder said.
Students interested in environmentalism can help protect the earth by getting involved with 350 Sandpoint, Sustainability Club, or adopting one of the habits listed to the right.