SCULPTING MINDS
Ezra Stafford fills Zabrielle's teaching position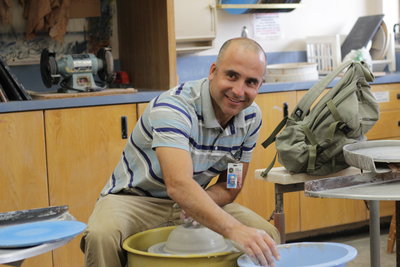 Sandpoint High School is lucky to have Ezra Stafford as a new teacher and mentor. He brings years of experience in ceramics, sculpting, and photography. After attending school in both Montana, Northern California and teaching in Vermont for five years, Stafford returned to Sandpoint two years ago because he missed the mountains and endless possibilities of outdoor activities.
Early in his career, Stafford focused on ceramics, however, once he began undergraduate school he switched his focus to creating sculptures made of unique pieces of wood he found while working at a mill shop. Further exploring his possibilities, Stafford once again refocused on photography.
"I was taking photos and actually kinda treating them more as an object so I would put them in spaces where they could actually get stepped on and they would get destroyed overtime. I'd hang them on a clothesline… some in my backpack for like a year, and then it would just break down."
Stafford eventually brought his skills to different schools in Vermont, one being a non-profit art school and the other, Landmark college, a school structured for kids who work with learning differences.
As much as Stafford enjoyed teaching in Vermont, he and his family missed Sandpoint too much to stay away for long.
"I love Sandpoint, so I want to be here for a long time. I love the hiking, I love the skiing. So, that's kinda why we moved back, because of the outdoors. There's nothing like this place. It's a pretty awesome spot."
Stafford is liked by his students at SHS. One glassblowing student, Isaac Bennett, shared about Stafford as his teacher.
"I appreciate that he's trying to just come in as a new teacher and take over all these tasks that Zabe had and he's just doing all of it at once. I like him as a teacher. He's pretty persistent with what we wants and very good at explaining something he wants."
When asked about his future plans, Stafford mentioned wanting to stay in Sandpoint and forever teach art. For now he hopes to get his credential in order to teach at a high school.
"It's been difficult for me to want to get my credential and not have a secure job placement."
For now, Stafford will continue sharing his humor, talent, and bright ideas with his students while enjoying his time at SHS.
"[The students] are all so enthusiastic about art, if I could bring that enthusiasm about art to SHS, I think that would be sweet. Zabe's done a great job with that already so it's like if I can just try to continue on while she's gone to do that, that'd be my goal while I'm here."