Confusion on the Court
Winter sports have taken a hard hit this season because of COVID regulations. Games have been cancelled and new rules have been put into place eliminating fans and increasing sanitization.
The boys basketball team has also experienced the change of energy during their games as a result of no spectators. "The fans are fun to be around because they change the momentum of the game at any second," said varsity player Ethan Butler. However, Butler has found a positive from this situation. "We can play a lot more freely knowing there aren't a couple hundred people watching you in person," he said.
Another challenge the team has encountered was their coach quitting, leaving the team questioning who was going to take over. Mike Roos stepped up for the coaching job.
The transition to a new coach mid-season has been tricky with the players having to adjust to a new coaching style. Butler explained, "We have changed the offense up a little and the coaching style has changed as well. It is hard to transition mid season to a new coach but I think the team is making the most of our season and our time on the floor."
The boys also don't get to have big team dinners this year like they normally would. Butler said that "This year has been a challenge from games being cancelled due to COVID and having a coaching change mid season, but we are all getting better and moving forward."
About the Writer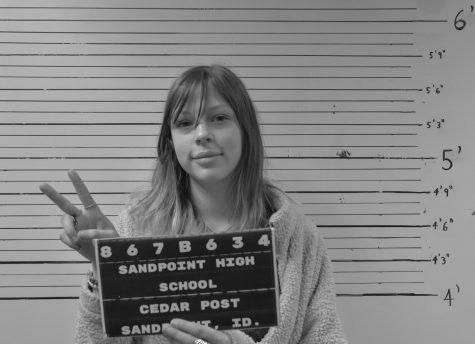 Lucy Allen, Multi-Media Editor
What is the most underrated movie? 

WALL-E.

What is your hidden talent? 

Taking naps.

What is one word that best describes your life?

Groovy.

What...