Winter Fashion Tips
How to avoid your drip from turning to ice.
Fashion plays an important role in many people's lives. For some it can be a way of honoring their culture and for others it can be an act of rebellion and a way to express their individuality. Regardless of where your motives lay, it is important to stay warm during the winter season. Here at Sandpoint High, numerous styles can be seen throughout the halls and each individual student has their own way of staying cute and cozy.
Hats are not only a great way to accessorize, but they're also great at keeping you warm. Covering your head reduces the amount of body heat that escapes from your head and the best way to do that is with "a good hat" says Gavin Jasper a senior at SHS. From cowboy hats to baseball caps and beanies, there are so many ways to incorporate hats into your winter wardrobe.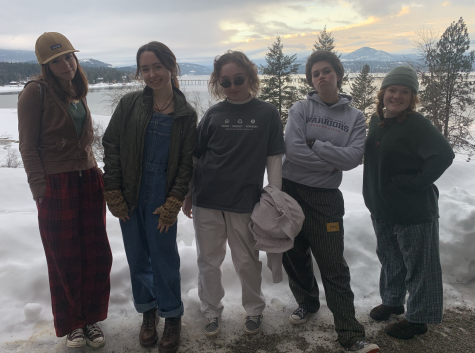 Another winter essential is keeping your toes warm. Thick socks are definitely a game changer when it comes to stepping out into the cold. "You can even double them up on a chilly day." sophomore Caitlin Gaffney says. "Double socks are the best socks," says Anna Auld, a senior. A good pair of socks is a must have for this cold time of year. 
Layering is also another creative way to stay cozy this winter. Senior Jake Oliver suggests "Wearing flannels" while Auld suggests "Layering t-shirts with turtle necks".
At the end of the day fashion is a mindset. It's how you present your outfit to the world and there are no rules about fashion and there's no shame in dressing casually because your comfort matters! 
There are so many different opportunities to express yourself through clothing.  Don't be afraid to embrace the elements this winter and adopt some of these cozy fashion tips.
About the Contributor
Sindy Terrones, Content Gatherer
What is a catchphrase you always use?

Check you later, man

If you could only eat one food for the rest of your life what would it be?

Curried...