Tricky Trick-or-Treating
Teachers who have kids share how their Halloween plans are different this year.
Lucy Allen, Multi-media & Reviews Editor
October 30, 2020
Halloween is approaching quickly and many people's traditions are changing this year to keep their families safe from Covid exposure. with it comes the question of what should we be doing this year? Four Sandpoint High School teachers share what their family's plans for this Halloween season are.
Melinda Nieman
Nieman has two young boys, Asher and Bennet, who enjoy celebrating Halloween. She said that they live in a small neighborhood so their family's plans haven't really changed. Nieman's sons go around their neighborhood trick-or-treating. "Our neighborhood actually puts a lot of candy out on the porch." Neiman said.
Then, the family visits their grandparents' house, "although we aren't seeing grandma and grandpa so we won't actually go in." Nieman said. While Nieman doesn't dress up, her boys enjoy this fun tradition. "Asher, my little worry wort, is going to be a surgeon because surgeons have to wear masks so it's perfect for him," Nieman said, "and then Bennet wants to be a skeleton."
Heather Dinkins 
Dinkins said that their family usually goes to her mom's house in Coeur D' Alene to trick or treat in her neighborhood "Not a lot of people in her neighborhood decorated this year so she didn't know how much fun they would have." Dinkins said.
With the confusion around COVID Dinkins said that this year her family will participate in the local candy walk. "Saturday day in downtown Sandpoint there's the candy walk where you can walk around to different businesses and they have candy there instead." She said. This is a great activity for families with kids that want to enjoy the festivities of Halloween while being safe.  Dinkins kids are excited to dress up as a gold power ranger and spiderman.
Robert Johnson
Johnson's usual plans consist of trick-or-treating on Lincoln Street. "We live out of town and so we come into town and we have friends on Lincoln Street and they go trick or treating over there," Johnson said.
Instead of going to Lincoln Street this year, Johnson said that they will head out to Lakeside Park and do some trick or treating there. "After that, we're just going to go to a friend's house so our kids can play." This year Johnson's 7-year-old daughter is going to dress up as a princess fairy and his 5-year-old son is going to dress up like a ghost."
Chase Tigert 
Tigert says that the only reason their usual plans have changed is that they are going out of town., Normally Tigert's family goes trick or treating in a big group of friends. "It's a lot of fun," he said, "they just go house to house and get candy and it's a great time."
Tigert explained that "a lot of our friends aren't doing it this year either." His youngest son, Cannon, "he wanted to be a shark clown at first which makes zero sense, so I was able to talk him into being a knight so that was good. And then Faith, who is 5, is a fairy." 
About the Writer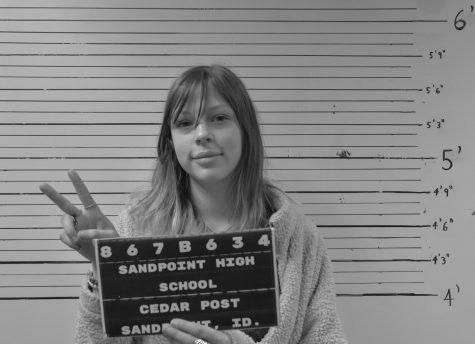 Lucy Allen, Multi-Media Editor
What is the most underrated movie? 

WALL-E.

What is your hidden talent? 

Taking naps.

What is one word that best describes your life?

Groovy.

What...