DIY THANKSGIVING CRAFTS
Easy steps to make your own holiday decorations
CANDLE HOLDER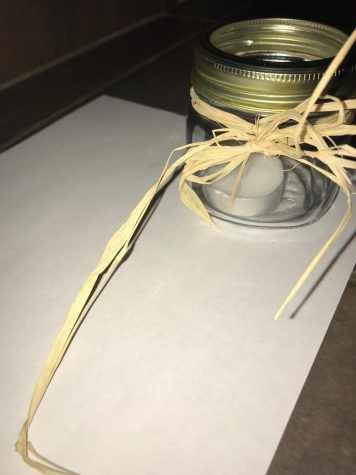 Supplies:
Mason jars
Twine
Tea lights
Candles on the table can set the right the mood for dinner but who wants to look at a bland candle? A cute mason jar holder will add to the decoration of the table. Find a handful (however many you want) of small mason jars that will be able to fit the the candle holders. Wrap the twine around the jar a couple of times and then tie in a bow. Put the tea lights in the jar and light. Arrange the way that best fits your table and enjoy the twinkling lights.
TABLE RUNNER
Supplies:
Copy paper
Tape
Sharpies
This table runner make simple decorations feel more personal. To create this customized table runner you will need several sheets of blank copy paper, make sure you will have enough to cover the table you wish to decorate. Overlap the pieces of paper and tape them together on the back so that the tape is not showing. Finally get an assortment of sharpies, they can be all the same colors or different, depending on the look you want to portray. Ask your guests if they would write what they are thankful on table runner, preferably before the meal is served. That way everyone can enjoy what one another are thankful for.
WORD BANNER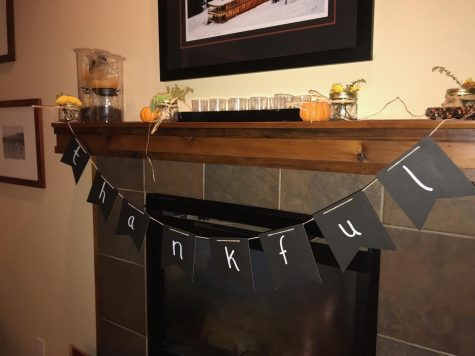 Supplies:
Paper
Twine
Sharpies
Scissors
A word banner is a very simple craft that makes the room look put together. First you must decide a word that you would like to display in the room. Then, create or trace a shape and cut out several, make sure you have enough so that each cutout has only one letter.  Write one letter on each piece of paper, and punch two holes in top corners of the cutout shape. String the letters in the correct order and make sure they are all equally spaced. Finally, tape the string of the letters to a wall or mantle, and enjoy your word banner!