ON THAT WATERMELON (G)RIND
Refreshing watermelon recipes to make for the summer
Hang on for a minute...we're trying to find some more stories you might like.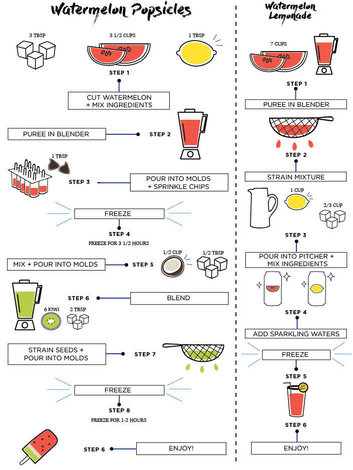 Watermelon Popsicles
Ingredients/Supplies
19 oz cubed seedless watermelon (about 3 1/2 cups)

5 1/2 Tbsp granulated sugar, divided

1 Tbsp fresh lemon juice

1/2 cup canned coconut milk, well shaken

6 kiwi

1 Tbsp mini chocolate chips

Blender, popsicles molds
Directions:
Mix watermelon, granulated sugar and lemon juice into a blender, mix until well pureed.

Wipe off foam from watermelon mixture, then pour into popsicle molds, filling them  ⅔ full.

Then, evenly sprinkle the mini chocolate chips into the watermelon popsicle molds.

Cover popsicle molds with a lid and freeze for 3 ½ hours.

In the last 30 minutes of the popsicles are freezing, whisk together coconut milk and ½ tablespoon of granulated sugar, then chill for 30 minutes.

Pull the popsicle molds out of the freezing, and pour coconut milk mixture into the molds, adding a layer to the popsicle.

Now, cut kiwi's in half and scoop into a blender, mix together with 2 tablespoons of granulated sugar. Using a strainer, strain the seeds from the mixture, then chill for 30 minutes.

Pour kiwi layer into popsicle molds, and freeze entire popsicles for 1 ½ -2 hours.

You're done, enjoy!
Watermelon Lemonade
Ingredients:
7 cups seedless watermelon, cut into cubes
1 cup fresh lemon juice (about 3 lemons)
⅔ cup granulated sugar
2 cups sparkling lemon flavored water
2 cups sparkling watermelon flavored water
ice cubes
lemon & watermelon slice, for garnish
Directions:
Put watermelon into a blender, blend until fully pureed.

Then, using a strainer, strain the watermelon into a large bowl

Pour strained watermelon into a pitcher, add lemon juice and sugar, stir well.

Then, pour in the lemon and watermelon sparkling water, and stir everything together.

Add ice, watermelon and lemon slices for garnish. You are done, enjoy!