INDONESIA ADVENTURES
Lydia Welp tells about her six weeks traveling in Indonesia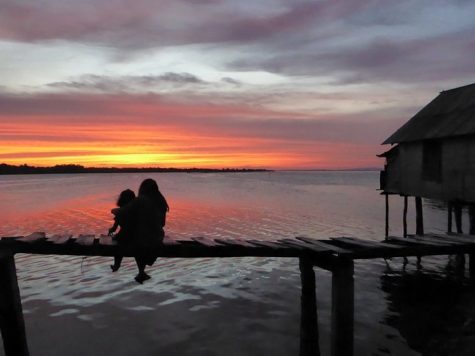 My six weeks in Indonesia were broken up by three homestays, which were on different islands: Java, Flores, and Sulawesi, respectively. While in Yogjakarta, Java, I studied the craft of batik. Batik is created using wax to hold color on the fabric so one can dye it different colors to create a design. I am now setting up my own little batik studio at home.
Langa, the village I lived in on Flores, was nestled in the shadows of the volcano Inerie. Almost everyone in Langa worked on their individual Kabun Kopi (coffee farm). Coffee was always spread out on the concrete path to dry in the sun. Because I was a bule (foreigner), everyone, especially the children racing around on stick horses, would stare at me and say hello. Flores is so remote that I was the first white person some of the children had ever seen.
I became close with my homestay mother, Mama Rina, in Langa. We wrote each other letters in the other's language for after our goodbye. Part of hers says, "Lydya and Rina…best friend. From my heart that inside. I'm sorry if you not happy this is my home. You don't to see my present, but a that is affection n love for me….Kobe Modhe for Lydya." I miss talking, laughing, cooking, playing cards, singing, and going on walks with her. Every night before bed she and I joked that we would go to the kabun at 2am, and she made fun of me for not knowing how to do laundry by hand.
The third homestay was with a Bajo community off the coast of Kaledupa. The Bajo people are traditionally a nomadic people, but 60 years ago the government forced them to settle. Their village is made up of 1000 residents who live in stilt houses on the open ocean. Each day I would either go line fishing with my Ibu (mama), Ramsia, or spear fishing with my Bapak (father), Rano, and younger brother, Akmal. After fishing, my mom and I went to the mainland to sell the day's catch. She told me how the land people have never liked the Bajo people, but that because I was a foreigner with her, she was respected more. One day my father found an octopus fifteen feet under hiding beneath a rock, and he strangled it to death. My Ibu and I then sold it to a family in the village for 70,000 Rupiah, which is approximately $5 USD. We paddled 20 minutes to the shore of Kaledupa and bought a bunch of bananas with the money from the octopus, which was a treat for our family.
How do I describe the incredible experiences from living with local families in Indonesia within 500 words? No matter how hard this may be, it will never compare to the challenges I faced, including communicating the first few days with non english speakers about the simple topic of how spicy certain dishes may be. However, with help from language classes, I was capable of a conversation completely in Bahasa Indonesia by the end of the six weeks.