Different Types of Skiing
A few different ways to ski down the mountain this winter season
People have been skiing since 8000 BC, about 10,000 years ago. The first skis were found in Northern China and were about six and a half feet, and covered in horse hair. Skis have come a long way from these glorified two by fours since then, nearly ten millennia later. Back when these types of skis were used, skiing was more of a means to get around efficiently in the winter, rather than for recreational use. Turns out that alpine, or downhill skiing wasn't invented until the 18th century. Skiing became a leisure activity and sport in the 1890s in the U.S and Europe.By the 1930s everyone was skiing and hitting the slopes. New inventions such as chair lifts, metal ski edges and a more manageable size of skis made skiing more enjoyable as a recreational sport. These innovations led to the skis we use today in modern alpine skiing. Along the way, many different types, or branches of skiing, have been invented. While the most popular type is alpine skiing, there is also Nordic skiing, telemarking, back country, racing and snowboarding.
            Avery Edmunson, a current junior at SHS, has been alpine ski racing for ten years on the Independence Race team, a nonprofit team from Schweitzer. Edmundson trains 2-3 days a week on average, but additionally trains any day she doesn't have school. " The junior travels 4-5 times a year to different mountains every winter season and says her biggest achievement s is "When I placed second overall for the season" After her big achievement she was thinking about quitting racing, but "getting second really inspired me to keep racing." Additionally Edmundsonalso says that  skiing is her way to release stress, and is also just fun.
If you don't feel like skiing on a crowded resort and instead want to get back to the fresh untouched powder, backcountry skiing is the way to go. Though backcountry skiing seems simple, just hiking and skiing, it is much more complex. Due to the fact that you're not at a resort you have to worry about many things including avalanche danger and getting lost. Before you backcountry ski it's wise to take courses to educate yourself. You also need lots of equipment such as beacons if you get caught in an avalanche, shovels and other tools in case of emergencies. In order to get up the mountain to ski down, you can either hike, which takes a lot of energy, or you can use backcountry ski bindings and glide up the hill. You can also use telemark skis to get to the back.
Telemarking is another type of skiing similar to Nordic skiing. When telemarking your heel also comes out, though your skis are also a lot wider, which enables you to downhill ski. People also downhill ski race with telemark skis. Nordic skiing is a type of skiing where only the toe is connected to the ski, which allows the heel to rise. This leads to being able to traverse across flat, and slightly sloped land quite a bit faster. Just like alpine skiing, there are nordic ski races. Sandpoint has a local racing team called the Sandpoint Nordic Club.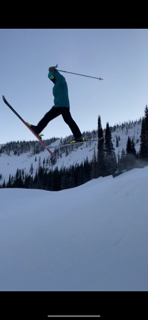 The club has a youth ski league, where youth train and compete together. Fletcher Barrett, a sophomore at Sandpoint High School is part of this league. This is an extremely difficult form of skiing, and according to Barrett, ¨you collapse at the finish line and if you don't you aren't going fast enough.¨ The team trains five days a week. In addition they also go to different places to race, and qualify for bigger meets such as nationals. Barret says his favorite part about racing ¨is the community of people and places that I get to go and see.¨
There are many many different ways to get out there and ski. One thing for sure is that no matter how you choose to ski, skiing is always a good idea.