REMEMBERING THE CLASS OF 2020
Senior Paget Stirzaker paints the faces of seniors to recognize the Class of 2020
During the times of uncertainty and struggle during the quarantine order for COVID-19, senior Paget Stirzaker has decided to dedicate her time to the class of 2020 and creating a lasting memory for her fellow classmates. 
About a month ago, Stirzaker concocted the idea of creating a senior triptych to dedicate to the Class of 2020. The triptych, in this case, is a piece of painted art divided into three different panels. This art will feature those of the class of 2020 that sent Stirzaker a photo of themselves in order to be included in the piece. 
"
I just want to give back to the people by giving [SHS students] something to look forward to.
— Paget Stirzaker
As an active artist who participated in SHS classes such as pre-AP and AP art, Stirzaker was inspired to create something beautiful out of the current struggles the Sandpoint Class of 2020 was facing. "I had a lot of free time on my hands and I was in a bad place," Stirzaker commented about her decision to create the triptych. "We didn't get a prom, and we almost didn't get graduation. I knew a lot of people were struggling and I decided to do something."
Though it may seem like a simple idea, a true artist knows that art takes time. Stirzaker is putting in the work in order to complete her project. When asked about when the piece would be completed, Stirzaker replied with, "I think at this rate we're looking at a month to a month and a half. It's a lot of faces and I want to do my best." Currently, Stirzaker has been working on it during her free time, especially late at night.
Stirzaker continued on to say that her project is to convey a deeper meaning than just a simple collage of familiar faces. "I just want to give back to the people by giving [SHS students] something to look forward to." Her main goal once the project is complete is for the seniors of SHS to "look at and see the good things in them that I notice." 
She plans to present her finished art to the class of 2020 who participated and sent in a photo to be portrayed on the triptych. Stirzaker would also like to add that, "This is not the senior mural that is on the walls of SHS nor is it related to the high school in any way. It was my own private project I decided to do."
About the Contributor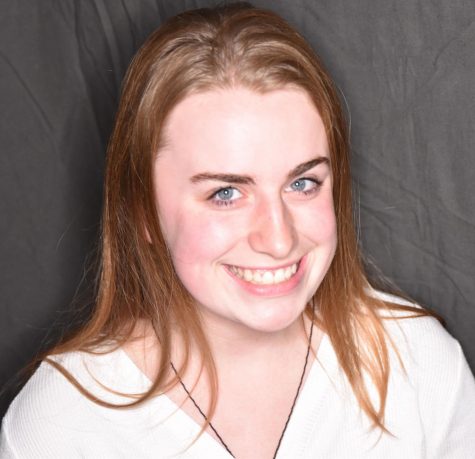 Abigail Hendricks, Opinion Editor
What are you freakishly good/bad at? 

The original Mario kart. I have no idea how but no one can beat me, and rainbow road is one of the easiest courses...