10 THINGS TO DO OVER THANKSGIVING BREAK
If you don't have anything to do over break, check out these 10 ideas!
Hang on for a minute...we're trying to find some more stories you might like.
With a long six day break off of school, there's no reason to waste your free time. Whether it's hanging out with your family and friends or Black Friday shopping, there are many things to do over this holiday break, and here are some fun ideas.
1. Go on a hike.
Before the snow completely covers pretty much all of Sandpoint, take one last hike on one of your favorite trails.
2. Spend quality time with your family or friends.
Thanksgiving officially marks the beginning of the holiday season, so it's important to show your loved ones that they mean something to you. By simply spending quality time with your family or friends, it will make the holidays even more special.
3. Take a Black Friday shopping trip.
The infamous holiday which begins the minute you put down your plate of Thanksgiving food, is always a good day to shop. Although it can be hectic, as everyone seems to be out and about hitting the shops, it's still a great time for some amazing deals on anything you could possibly imagine buying.
4. Attend the Christmas tree lighting and Santa arrival at Jeff Jones Town Square here in Sandpoint.
The annual Christmas tree lighting here in Sandpoint will take place on November 24th at 5:30 p.m. This event draws in many locals, as it officially 'lights up' Sandpoint's Christmas spirit.
5. Donate old clothing and other items to a nearby thrift store.
As the weather gets colder and colder, many people around Sandpoint are in dire need of warmer clothing. Go through your old items such as sweatshirts, coats, gloves, hats, etc. and donate them to local thrift store such as The Panhandle Animal Shelter thrift store or Goodwill. Your donations could most definitely help a family or person in need.
6. Have a makeshift photoshoot with your friends.
The holiday season calls for quality photos to post on social media, or to simply just have as memories. Go outside or stay in, and have a fun and creative iPhone photoshoot with your friends.
7. Bake delicious holiday desserts.
Nothing screams holiday season like desserts of all kinds. Find a fun recipe online or just simply buy some cookie dough and bake a batch of cookies.
8. Take an overnight trip to a nearby town.
Having a long break means having more time to leave town. Plan a quick overnight trip to a surrounding town for a small break from Sandpoint. Whether it's just down to Spokane, Washington, or Missoula, Montana, it's guaranteed fun for you and your friends/family.
9. Read a book.
Although reading doesn't seem like the most ideal thing to do while you're on a break from school, there are still book lovers out there. Cuddle up on your couch, or better yet, by your fireplace and read a new best-seller or your all time favorite.
10. Volunteer your services somewhere.
Many people are in need of all sorts of things, so whether it's volunteering at a soup kitchen, or donating food to the food bank, it's guaranteed that volunteering yourself will make you feel nothing but joy.

About the Writer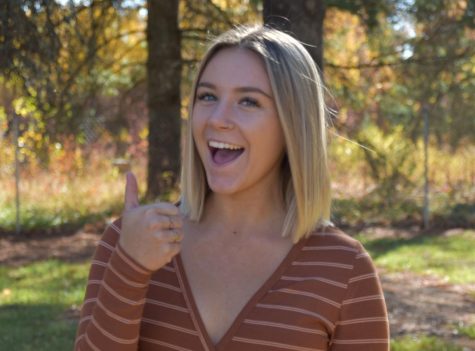 Evelyn Webster, Opinion Editor
Evelyn Webster is a senior and it is her second year on staff. Here are some fun facts about Evelyn.

What takes up too much of your time?

Buying...