Finding Friends Through Faith
A group of SHS senior girls get together once a week to talk about their faith.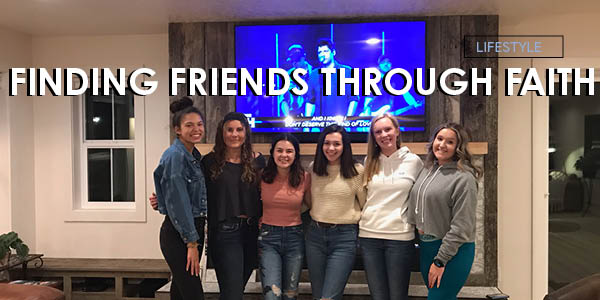 Senior Libby McLaughlin was feeling alone with her Christian faith and was all at once getting approached by friends asking her how they can get involved with God. She took this as an opportunity to host a small group in her home. This group consists of a handful of senior girls who get together and "figure out what life as imperfect people with God looks like!" said McLaughlin.
 These individuals get together every Tuesday night at one of the girls' houses from 6 to around 9:30 PM, eat some snacks, watch a Cedar Hills gathering and then answer questions that go along with it. Not only do they have discussions delving into various topics, but they also take time at the end of the meeting to process what's going on in their lives and pray about it with each other.
"
These girls have watched and helped me with my faith."
— Olivia Lynch
The Sandpoint High School students who have consistently been a part of the group are Katherine Mellander, Molly Balison, Kami Raver, Olivia Lynch, Faith Clark, Taylor Sadewic, Stephanie Sfeir, and Camille Nueder. These girls have been encouraging each other in their faith and creating a supportive, welcoming community centered around growing closer to God. 
"These girls have watched and helped me with my faith," said senior Olivia Lynch. By being a part of this group Lynch has learned that she is able to "navigate hard things with God. "The past few months, things have been really difficult," Lynch said, "but I don't think this group, and God, could have come into my life at a better time."
McLaughlin has gained valuable encouragement, accountability, and insight from meeting with other believers on a weekly basis. "My relationship with God has gotten so much stronger and has been way more applicable," she said, "I've gained truly some of the most genuine and valuable friendships I have ever had in which I know I can count on honesty and kindness, and I've also become a much more aware leader in God." 
Even though McLaughlin has left to attend discipleship training in Hawaii and further her relationship with God, the group has continued to meet. The decision to continue, " really shows that we've really created an environment that's bringing hope and encouragement in Christ to one another," said McLaughlin.