Batch Made in Heaven: It's in the Bag
A review of Mrs. Nieman's paper bag apple pie.
Hello prospective bakers! This is a Batch Made in Heaven. We are Ellen Clark and Connor Bird and we're here to bake and give our reviews on the recipes' of SHS teachers. To start off the series, here is Mrs. Nieman's Paper Bag Apple Pie. 
Recipe:
Pie Crust:
1 cup flour
A pinch of salt 
1⁄2 cup shortening
1⁄4 cup ice water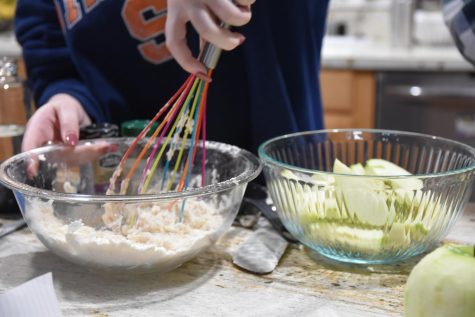 Filling:
5-6 large apples
1⁄2 cup sugar
2 tablespoons flour
1⁄2 teaspoon nutmeg 
1⁄2 teaspoon cinnamon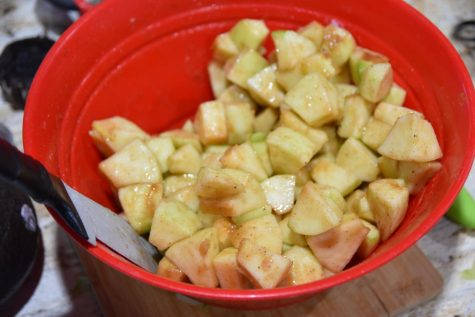 Topping:
1⁄2 cup sugar 
1⁄2 cup flour 
1⁄2 cup butter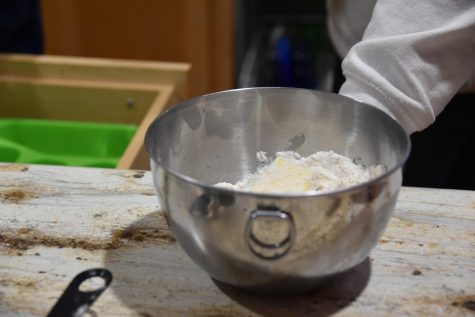 Directions-
Pie Crust:
Whisk together the flour and salt, then cut in the shortening using a pastry knife until it appears to be little crumbles. Add the cold water to form a ball. Roll out the dough and prepare the pie crust in a 9 inch pie plate.
Filling:
Peel, core, and cut the apples into eighths and then cut the eighths into chunks. Combine sugar, flour, nutmeg and cinnamon. Sprinkle over apples. Place apple mixture into the prepared pie shell.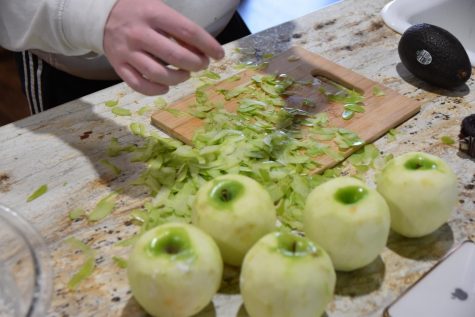 Topping:
Combine sugar and flour, then cut in butter with a pastry knife until the mixture is almost crumbly. Sprinkle topping over apples to cover.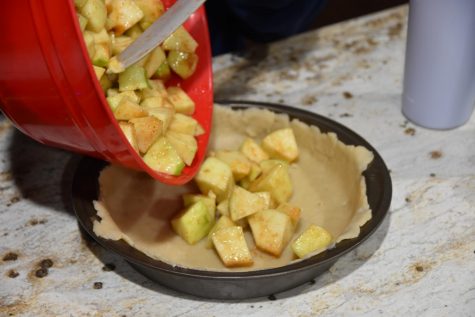 Baking:
Slide the pie into a brown paper grocery bag. Cover loosely, folding end closed and stapling shut. Bake at 425 for 1 hour. Cool out of bag.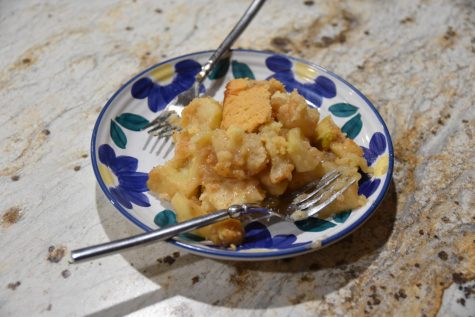 Review:
Mrs. Nieman's Paper Bag Apple Pie was a hit. When we first heard the recipe, we were a little skeptical on whether or not a paper bag would actually make a huge difference in the outcome of the pie. However, it made the apples less mushy than a normal pie, which we both appreciated. Here are our thoughts. 
Difficulty to Make: 5/10
This pie was a bit difficult to make mainly considering the crust. The crust was the main issue we had when making this pie, and although it came out amazing, making it was very difficult for us. It kept falling apart every time we would lift it up to put it in the pan. Our solution was to roll out the crust onto a sheet of wax paper, and then flip it into the pan. Overall delicious, but unfortunately really difficult. 
Taste: 10/10
There are no words able to convey the absolute masterpiece that this pie was. Between the crunch of the apples, the soft flakiness of the crust, the sweetness of the sugar, the mix of the nutmeg and the cinnamon, this pie was absolutely delicious. Even Connor, who doesn't like pies let us know that this pie was "scrumptious". 
Time to Make: 3/10
Don't get me wrong, I'm definitely glad that I made this pie. It was delicious and turned out much better than I was expecting–and I don't even like pie. However, it took forever to make. We started making the pie at 3:30, and we didn't eat until 6:30. Our biggest slow down was the crust. It kept breaking when we attempted to put it in the pan. The outcome was worth it though, the crust was buttery and flakey, and the pie was scrumptious. Although if you are on a time crunch we would either recommend buying store bought crust, or simply making this pie when you have more time. 
Look: 7/10
When putting it in the bag, there were definitely some concerns on how it would look when it came out of the oven, but, to our surprise, it actually looked pretty tasty and enticing. The crumbles on top were nice and golden brown, and the apples were cohesive with the crumble. When putting it on a plate to taste, the pie somewhat fell apart, but when serving it cold, the pieces kept together like actual slices. Overall, this pie looked fantastic. 
Overall: 8/10
Overall this pie was wonderful. The flavors blended harmoniously, the look was absolutely desirable and we were so glad to make this pie. It took a bit long to make and it was slightly difficult to prepare but in the end, this pie was totally worth it.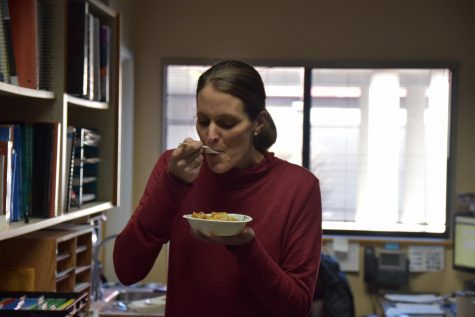 Mrs. Nieman's thoughts:
Oh my goodness!  The two of you have a gift! A true baking gift. Here are my thoughts about the apple pie you made:
 The pie you made was absolutely delicious! From the crust, to the filling, to the topping…you really replicated exactly what it is like when I make this recipe. I am thoroughly impressed that it all turned out so well. Visually and taste…it was exceptional. The only difference I would note is with the apples. I think I usually use a variety of apples. The apples used in this pie were probably a little more on the tart side. Still, delicious!
About the Contributors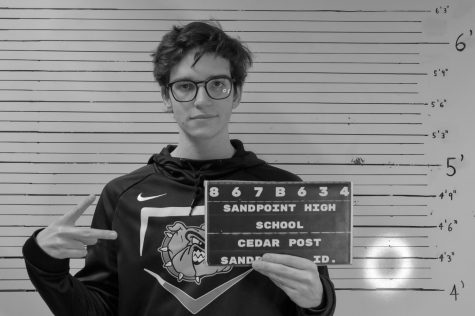 Connor Bird, Editor-in-Chief
What is the most underrated movie? 

The Great Escape. This movie is so amazing. It takes people through a journey of World War 2 and you really gain...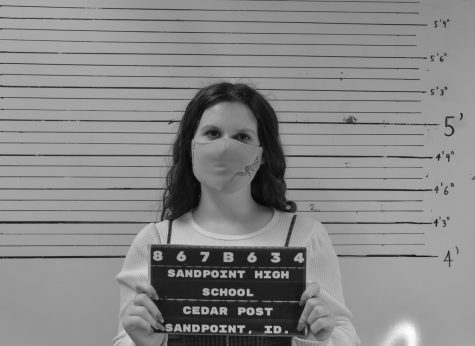 Ellen Clark, Copy & Opinion Editor
What is the most underrated movie? 

Mustang. This movie is so beautiful and emotional and it really makes me grateful for my little sister. 



What...