MILES ABOVE THE REST
Sandpoint High staff members Mr. and Mrs. Miles give their insight on their work and home relationship.
It is no secret that there are multiple married staff members throughout the halls of SHS. This school year, there's been an addition to that number; Principal Mr. David Miles, and Mrs. Sarah Miles. This is not the first time they have been the "new staff couple"; they met at SHS years ago when they worked together as teachers.
They both agree that their relationship has not been affected by Mr. Miles' new position. "Of course, it's a bit different as Mr. Miles is the boss now," says Sarah Miles. "But we both understand the demands and energy that go into this profession and we try not to let work things carry over to home and of course humor helps a lot." 
The downside about the two working at the school is that it takes them both away from their home life. "It is just an extra burden for us." David Miles exclaims that, "It (working together) has helped us both understand how stressful our jobs are because we now share the same work and issues."
Even with their busy lives, both David and Sarah Miles love to please the other and make their day. David Miles states that when he worked in Bonners Ferry, he would bring flowers to his wife every other Friday. Now, since he is working here in Sandpoint, he tries to get her flowers every other Monday. "It always makes me smile" says Sarah Miles. She adds that she brings her husband breakfast and a "second coffee" some days and dinner when he is working late at night. 
David Miles referred to himself as "the Grinch" or a "fun sucker" when asked about if he had any Valentine's day traditions, "I'm not a holiday person at all…so no traditions exist." He includes that his wife would surely appreciate more from him in that regard but he just is not into holidays and/or holiday traditions. 
"…He doesn't like to celebrate things (besides his birthday) so there's no big grand gestures that happen." answers Sarah Miles. "I'd obviously love for that to change!" she hints. 
They have numerous comical stories about their relationship that they will never forget. "We were married on April Fools Day because our original date was too near my birthday and I didn't want to give up my birthday presents…It's a great day because I will always remember April 1st." claims David Miles. "We also didn't have cake at our wedding because I don't like cake (recall I'm the Grinch/Fun Sucker) so we had rice krispy treats instead, which are my favorite dessert."
Since the first day they met, they've both been causing commotion. "We got into trouble on the first day we met because we were talking too much during the staff meeting. Then we got in trouble on our own wedding day because we were talking too much while the minister was doing his speech." adds David Miles. 
Sarah and David Miles know how to make the other person happy and know not to include work life into their home life. They both know how hard the other works and appreciates them for everything they do. 
About the Writer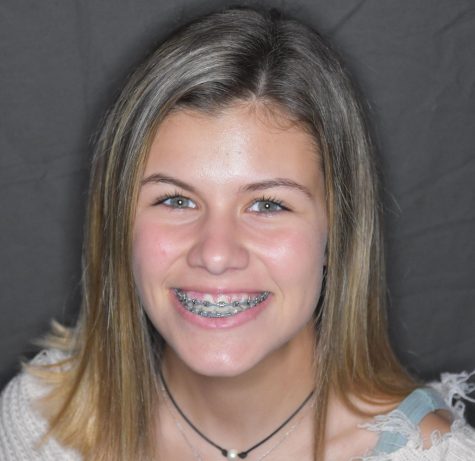 Hadley Goodvin, Reviews Editor
What takes up too much of your time?

Probably listening to music or not wanting to get out of bed.

What's the last movie you cried at?

Mamma...