BEST AND WORST OF THE DECADE
CP staffers give their thoughts on the entire 2010-19 decade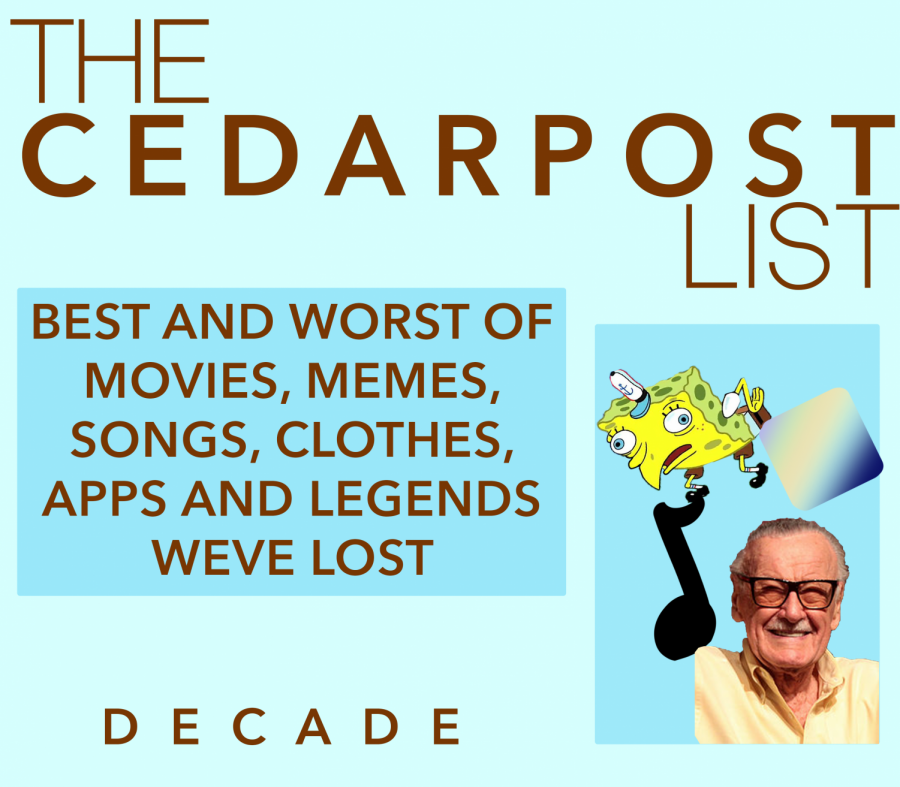 Legends We've Lost: 
Tom Petty, what an absolute legend. His classic hits such as "Free Fallin'", "Wildflowers", and "I Won't Back Down" will never be forgotten. – Emi Lynch
Etika – A Twitch and Youtube inspirationists whose streams and videos always had a positive and joyful environment in which everyone loved. He will be happy to see his community has carried on his legacy as a beloved creator, and friend. – Connor Moreno
Mac Miller – This goes without saying, but Mac was an absolute visionary and paved the way for a different kind of music. Classic songs like "Come Back to Earth", "What's The Use", and "Dang!" just hit different after Mac's death. His passing also brought to light the issue of accidental overdose of prescription medicine and called for positive change. – Mac Miller
Stan Lee – In 2018 we lost one of the greatest writers within the entertainment industry, for over two decades he spearheaded the creative division of marvel, helping forge the way for the modern marvel we all know and love today. – Peyton Mullen
Robin Williams – Robin Williams was one of the most beloved actors and comedians of the last few decades. Movies such as "Mrs. Doubtfire", "Good Will Hunting", and "Aladdin" are absolute classics and feature Robin in them. His passing was truly heartbreaking. – Connor Bird
Best of the Decade
Movies
Camp Rock 2 is BY FAR the best movie of the decade. An absolute classic.. right behind High School Musical, but that missed the cut off date by 2 years. – Shea Kilpatrick
"Mamma Mia 2: Here We Go Again" was a beautiful, BEAUTIFUL, compliment to an already amazing plot from the original "Mamma Mia". The soundtrack never fails to be a go-to sing along in the car, and the moving scenes with dead Donna bring even the toughest of us to tears. – Emi Lynch
The Hunger Games series were not only the favorite movies of every Katniss obsessed preteen girl, but were also viewed and loved by a wide variety of audience. This captivating series left the audience on the edge of their seats, and always wanting more. – Autumn Morgan
Interstellar was my favorite movie of the decade. The movie blew my mind at every twist and turn in held, and how potentially real the plot of the movie could be. The science-fiction genre is always my favorite, but Interstellar excelled, bringing suspense, a believable story line, and interesting characters all together in this 2014 masterpiece. – Connor Bird
Apps
The best overall app of the decade would hands down have to be YouTube. The streaming platform spread like an incurable virus across millions devices since its release in 2005. YouTube still is used constantly by a variety of ages which makes it almost detrimental to 21st century entertainment. – Brendan Banks
Snapchat was definitely the best app of the decade. Although it is my #1 time waster, and I would probably be more productive without it, Snapchat has been a huge part of my life for years. It allows me to stay in contact with my friends, by actually seeing them, rather than through emotionless text messages. Although the most recent updates have not been my favorite, I still think Snapchat is my app of the decade. – Connor Bird
Spotify was probably one of the most used apps of the decade. Launched in 2006, most kids probably grew up listening to whatever their parents played in the car, and made their own playlists when they were old enough to discover their likes and dislikes in the world of music. Hours can be spent in a day listening to your favorite playlists to get you into a certain mood, help you focus, or just to pass the time. Spotify is probably one of the apps on my phone I use the most because I constantly have music playing. – Molly Balison
I'm with Connor on this one. I created my Snapchat in sixth grade and haven't not used it ever since. – Shea Kilpatrick
Memes
The sherloid bai meme was the absolute best meme of the decade. Every time I hear the word "disgusting", it brings me back to the hilarious Internet video that includes two kids and their mom. – Olivia Lynch
Doggo memes are undefeated. I don't think I need to say anything more. – Joe Parsley
Songs
Lean on Major Lazer and DJ Snake is the best song of the decade that – Shea Kilpatrick
The Night We Met Lord Huron is so beautifully written. Featured in the popular TV show 13 reasons why, it gained major popularity. Although the song is haunting, you keep coming back for more. – Autumn Morgan
Whatcha Say by Jason Derulo. Does anything more need to be said? – Connor Bird
Cigarette Daydreams by Cage the Elephant is the definition of amazing; everyone gangsta until it comes on shuffle. – Hadley Goodvin
"Can I Call You Tonight?" by Dayglow is easily one of the top songs of the decade. It gives off such a retro vibe, but was released in 2018. It's a fun song, but when you really listen to the lyrics, there's a deeper meaning. It's a good song for driving and getting hyped. – Olivia Lynch
Clothing
High rise jeans saved all of us from the horror of low rise jeans and bedazzled back pockets. I'm pointing at you Buckle. – Hadley Goodvin
The outfits for the past 10 years haven't been complete without a pair of white Vans, white Converse, or white Air Force 1s. Though some may call it stupid for choosing to wear easily tarnished white shoes in the middle of a north Idaho spring or winter, us Generation Z-ers call it style. – Emi Lynch
Worst of the Decade
Movies 
The Emoji Movie is by far one of the worst movies of the decade, literally focusing on the lives of emojis and confirming our generation's obsession with cell phones. – ???
Sharknado is one of the worst movies I've ever seen. It has a terrible plot, even worse actors, and the absolute worst CGI I've ever laid eyes on. With a budget of $2 million, I feel like they could have done a bit better. – Olivia Lynch
Sausage Party was the dumbest movie of this decade. It was a horrible idea to create this repulsive content that is depicted as harmless at first glance…with animated food for goodness sakes. Don't watch if you value your brain cells. – Molly Balison
Memes
The moth memes were just awful. I have nothing more left to say. – Emi Lynch
The stick figure people were just flat-out terrible memes. Thankfully memes have evolved and look nothing like these anymore. – Joe Parsley
Songs
How in the world did "Friday" By Rebecca Taylor make over $1 million? The off-tune song is horrible, and does not deserve the credit that it got. – Cyrus Blaine
Lift Yourself by Kanye West was the worst song of the decade. While the song itself isn't terrible, it's beat is amazing and it is catchy, what really made it the worst was that it was the beginning of the end for Kanye. The nonsensical lyrics and yelling are very strange, and the memes that came along with it were terrible. That's why I think it was the worst song of the decade. – Connor Bird
App
Yolo! This Snapchat-sourced app is awful. Besides encouraging Snapchat users to seek out unnecessary attention and opinions from others, it allows people to be rude, derogatory, immature, and above all, annoying. – Emi Lynch
Facebook was by far the worst social media app of the decade. They always have security problems and what's even worse is that it's riddled with Boomers. – Joe Parsley
Clothing
The trend of flared jeans died out mid decade and, unfortunately, is making a comeback. I absolutely do not understand it; why would you want an extra 9 pounds of fabric clogging the space around your ankles? – Olivia Lynch
Colored camo cargo pants are not the move this decade. A lot of the so-called "hypebeasts" wear the atrocious piece of clothing. Why would you purposely wear bright camo? Are you trying to be seen or not? – Hadley Goodvin
About the Contributor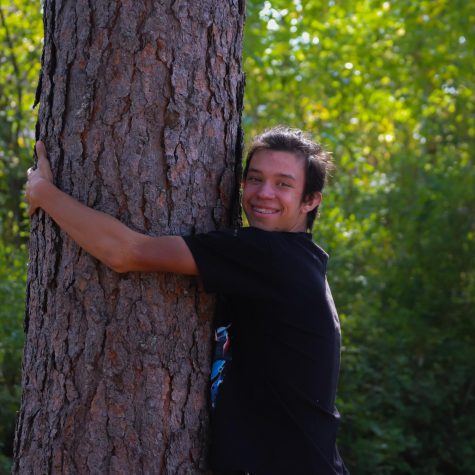 Peyton Mullen, Graphics Editor
What is the most underrated movie?

Rio.



 What takes up too much of your time? 

Producing Music



Where do you see yourself...