TALKING ABOUT TRUMP: HOW WE TIE OUR OWN TONGUES
Trump's behavior detracts from his policies
Hang on for a minute...we're trying to find some more stories you might like.
While Trump's behavior on Twitter is uncondonable and much of his policy controversial, the way we talk about him is the real problem at hand.
Yes, he constantly says objectionable comments, but this isn't news. We can all agree that his behavior is not what we deserve from a president. Why is it still the subject of so much controversy? In talking about his behavior so much, we have silenced ourselves on more important topics.
When Trump tweeted about the NFL standing controversy, the spotlight shifted away from the topic at hand and onto him. The protest originated to highlight racism, but became centered on whether Trump should or shouldn't have called for an NFL boycott.
However, there are other voices deserved to be heard in the debate. Many were concerned that kneeling was unpatriotic and disrespectful to veterans. These are valid concerns to consider. Or better yet we could talk about the original and far more important controversy, racism.
Yet nobody does this because Trump tweeted something and now everyone rushes to agree or disagree. Perhaps the world would be a better place if he didn't have a Twitter account. But can't we just realize that our attention to his feed is actually the thing hindering our conversations?
It is not just our reaction to his Twitter that blind us. We also demand a negative narrative about him from the media and now that's all we will hear.
His tax plan has a huge disapproval rating yet a number of large companies have increased wages and given out bonuses due to the business tax reduction. The plan was designed to be a major cut in taxes so middle class americans and businesses can reap the benefits of the hard work instead of the government.
Whether or not you believe that will work is likely a product of your party alignment and view on economics. However the news paints it as an undisputed truth that Trump meant the plan to secretly only benefit the elite one percent. It's difficult to find any popular news source that adequately describes the benefits of the cuts.
But this doesn't mean there are no benefits. It did pass through both the House and the Senate, so there is likely some logic behind it. But it could mean that we aren't being told the whole story by popular media.
Because of Trump's social unpopularity we have refused to listen to any good spoken about his policy. Now we pay the price. By only talking about his flaws, all we want to hear are stories of where he's failed. We no longer want the truth.

About the Writer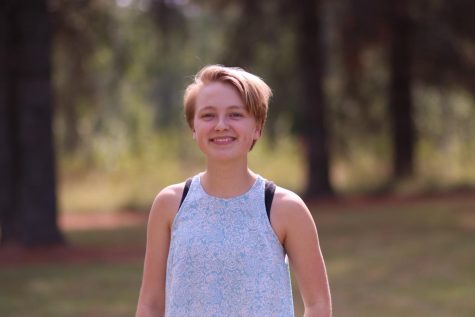 Shelby Dorman, Web Staff
Shelby Dorman is a senior and it is her first year on staff. She is part of the web staff.