WALLACE: A WRESTLING WOMAN
Heather Wallace pursues her dream to wrestle as the sole female wrestler
Hang on for a minute...we're trying to find some more stories you might like.
Wrestling is a very physical sport between two competitors with a common goal: pin the opponent first. This highly competitive sport has caught the interest of sophomore Heather Wallace, who now competes on both varsity and junior varsity, and wrestles at a weight of 106 pounds.
Wallace has a previous background with the cross country team but she expressed that wrestling has always been a small part of her life. She decided to give this extremely physical sport a try.
"I always thought it was an admirable and respectable sport. I have been running for a long time and I thought it would be fun to try a new challenge," Wallace said.
Wrestling is physically and emotionally draining, and requires a lot of stamina from an athlete. The SHS wrestling team has specialized training to prepare its' wrestlers for meets or duals. They meet for practice everyday after school.
"My body was definitely hurting [in the first couple days], but now I'm use to it," Wallace said.
Wallace said when she first started to train, it was very difficult. The team has been very supportive, which made the difficult trainings more bearable. The team has welcomed Wallace with open arms despite the deviance of being a female wrestler. High school wrestling for females is becoming more common.
Wallace is the only member of the Sandpoint Wrestling team that can make the lower weight class, so it it important that she maintains her weight. She said it was difficult and she had to diet in the beginning of the season to be able to make weight, but she is adapting well.
"[Now] I can eat whatever I want and not have to worry about it," Wallace said.
After long and exhausting training and dieting, Wallace's duals are very rewarding for her because of the hard work and effort she's put in.
Through all of her new experiences and the support that Wallace has been apart of this year, she plans on continuing to wrestle throughout her high school career — and at this year's State Wrestling Competition, which Wallace recently qualified for.

About the Writer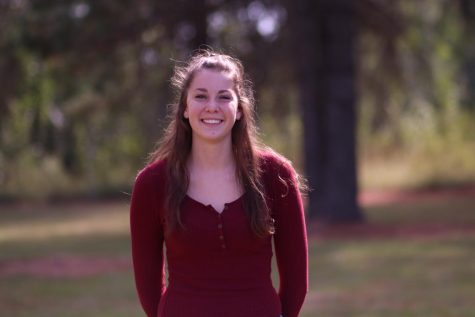 Grace Hicks, Web Staff
Grace Hicks is a junior and it is her first year on staff. She is part of the web staff.