ADDRESSING CONSENT
Allegations against comedian Aziz Ansari reflect broader cultural norms
Hang on for a minute...we're trying to find some more stories you might like.
I love Aziz Ansari. I'm an avid fan of his Netflix sitcom "Master of None", and his role as the lovable Tom Haverford on NBC's "Parks and Recreation". His New York Times Bestseller "Modern Romance" can be found affectionately dogeared in my headboard among my most treasured titles. I was ecstatic when he became the first Asian-American to win a Golden Globe for Best Actor in a TV show this year.
When allegations of sexual misconduct surfaced against him a few weeks ago, I was infuriated and confused. Mostly, I was deeply saddened.
On Jan. 13, the website Babe published an article titled "I went on a date with Aziz Ansari. It turned into the worst night of my life". The piece exploded immediately. The 3,000-word article meticulously recounted an anonymous woman's unpleasant evening with Ansari, a date marked with aggressive and persistent sexual behavior that left her crying on her Uber ride home in Sept. 2017. The woman, going by the name Grace, described her feelings of violation and objectification as she affirmed her discomfort through "verbal and nonverbal cues" throughout the sexual encounter.
The comedian issued a statement through his publicist in response to the allegations shortly after the article was released. He acknowledged his date with Grace, and held that the evening was "by all indications…completely consensual." He issued his support for "the movement that is happening in our culture."
After studying sexual assault as a cultural norm, I have every reason to believe Grace's story. Still, I can't help but look for any reason to preserve my positive perception of someone I once considered a role model.
An especially stinging element of the allegations mounted against Ansari is their striking contradiction to the comedian's brand.
Aziz built his career on the image of the "woke", sensitive alternative to the average douchey-bro. He explored themes of sexual assault, misogyny and racism in "Master of None" and examined sexual and relationship dynamics in "Modern Romance". Feminism has been a consistent theme in both his television roles and his stand-up comedy — in fact, in a stand-up special at Madison Square Garden, he performed a set focused on the prevalence of "creepy dudes" in society and their inappropriate conduct.
When Ansari sported a Times Up pin at the Golden Globes, Grace was apparently motivated to come forward with her story.
Aside Weinstein's and Spacey's decades of alleged abuse, Ansari's misconduct seems petty. It seems normal. It seems like Grace was but a mere scorned woman disappointed seeking revenge for her disappointing date with a celebrity she admired.
Many have slammed Grace's decision to come forward to Babe, insisting that Grace was overly sensitive and deluded to equivocate her experience with that of other sexual abuse victims.
I agree completely that Grace's alleged experience shouldn't be compared with the systemic, grotesque abuses of power exposed in Hollywood. But I don't understand why we need to compare them.
Sexual violence exists not in black and white, but in infinite shades of grey. Violation is violation. Grace's story doesn't comply with legal definitions nor social perceptions of sexual assault, but it wasn't a consensual encounter either. It exists in the space inbetween.
And that space is, for the most part, uncharted territory.
I applaud Hollywood's effort to finally expose and expel its heinous and habitual abusers, but it's only the beginning.
It's easy to eradicate the tumors and hope everything is solved. What's more difficult is examining the root cause behind the illness.
Grace's allegations against Ansari are reflective of a broader culture defined by traditional relationship dynamics and conceptions of sex. Her story recalls similar experiences of grey-area sexual encounters for amasses of its readers. The familiarity of the story is the problem.
We need to emphasize the importance and the necessity of enthusiastic consent in all sexual interactions.
Tackling deeply-ingrained and widely-accepted fallacies of relationships and sex is a lot more difficult than reckoning with a handful of standout offenders.
As for Ansari — needless to say, he's no longer my idol. But his sexual behavior isn't shocking to me. Everyone is susceptible to the influence of decades of traditional sexual dynamics that undervalue the feelings of the female participants. No one is immune to society's widespread disregard of affirmed consent.
I suppose he's gotten what he asked for when he branded himself as a feminist and ally to women tired of creepy dudes: a place in the discussion.

About the Writer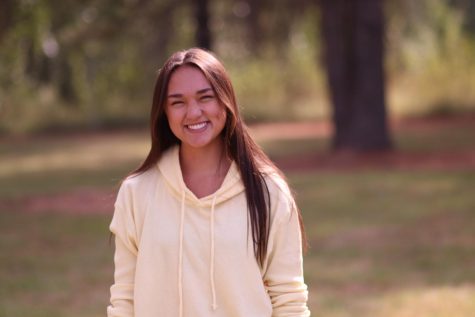 McCalee Cain, Editor-in-Chief
McCalee Cain is a senior and it is her third year on staff. She is the Editor-in-Chief.