DANCE AND CHEER THROUGH THE YEAR
Dance and Cheer perform in varying environments during their seasons
Hang on for a minute...we're trying to find some more stories you might like.
With the winter chill in the air, sadly it is time to wrap up fall sports at SHS. Winter sports are beginning their pre-season work and practices and soon we will be hitting the SHS gym. However, throughout the year, there are two teams whose seasons do not end.
The dance and cheer teams are performing, practicing and partaking in competitions year round. "Participating in a sport all year definitely takes serious dedication," junior cheerleader Cece Gedrose said.
Fall football season consists of the cheer team leading chants and cheers, keeping the fans involved throughout the entire game. Then, there's always a fun half time performance from dance team.
Transitioning from fall to winter, both the cheer and dance teams follow the same routine at basketball games, the only difference is that the performance is in the gym versus at memorial field. With the varying locations of the teams' performances comes a variety of opinions.
"The gym floor is so much easier to dance on than grass because we practice on it every single morning," junior dancer Paris Harvey said.
For a member of the cheer team, a performance on grass at a football game is preferred, unlike Harvey's choice of performing in the gym during basketball games.
"I like cheering at football games rather than basketball because I believe the school gets more involved during football games and it's super fun to be out under the lights on the field," senior cheerleader Michaela Ryan said.
Not only do both teams perform at each football and basketball game, they also practice almost every day throughout the entire school year.
"Sometimes you want to give up when you realize you'll always be busy practicing, but it's just something you have to get used to," Gedrose said. "I'm only used to it because I've been on the cheer team for three years now."
Overall, both teams work hard to reach their goals all year long. Their ability to adapt to new performance environments demonstrates their determination and commitment to their sports.

About the Writer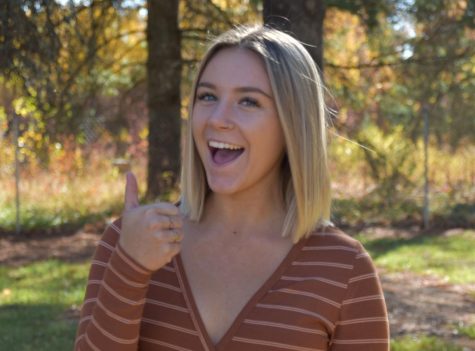 Evelyn Webster, Opinion Editor
Evelyn Webster is a senior and it is her second year on staff. Here are some fun facts about Evelyn.

What takes up too much of your time?

Buying...