THOUSANDS OF THREES
Spencer Thompson shot 25,000 three-point shots this summer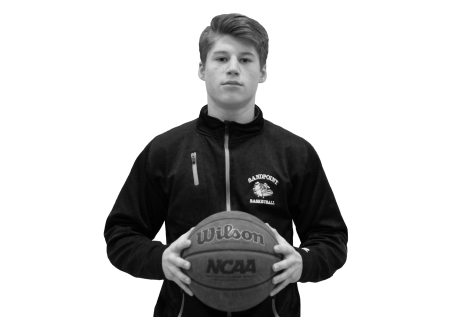 Summertime- a word most people associate with relaxing and having no responsibilities- is a word that Spencer Thompson associates with hard work.
During the summer, many sports programs had practices and workouts to keep from regressing their skills and athleticisim. One of these sports programs was the basketball team led by Coach Kent Leiss. One of the players that was in the gym the most was senior Spencer Thompson.
Over the summer, Thompson spent three to four hours a day for six days a week, in the gym with Coach Leiss and other teammates working on his craft. "I think as a program we got up like 130,000 [shots]," Thompson said.
Thompson worked on a variety of different skills such as ball-handling and shooting, and played one-on-one games with other teammates, "We worked on our rip moves and shot fakes and then we'd do like stationary ball handling," Thompson said.
Thompson spent most of his time shooting, working on shot mechanics and accuracy.
Behind the three-point arc, Thompson put up around 25,000 shots, which led the team. "I really worked on getting my left hand off of the ball when I shoot," Thompson said, "last year I had this thing where my thumb of my left hand would push the ball and give it a weird spin."
Thompson has shot so many that he says nothing goes through his mind when he is shooting anymore, "I have nothing in my head, it's just muscle memory."
However, Thompson was not the only one in the gym. "Taran [McLaughlin], Ryan Roos, and Damian Dalthorp were in there shooting a lot too," Thompson said.
"Spencer has shown dramatic imrpovement in the past off seson," Coach Leiss said, "Spencer has shown he is probably our most dedicated player at this point. He has an outstanding work ethic, and practices hard everyday."
With his teammates in the gym with him, Thompson's confidence in the team has skyrocketed, and he is able to trust his teammates when they have the ball in their hands. "[Having my team in there] made me feel really good. "This year we should be able to shoot a lot better, we won't have one guy taking all of the shots," Thompson said.
Thompson is nicknamed 'Jimmer' by many of his friends in reference to Thompson's love for  professional basketball player Jimmer Fredette. Thompson admires Fredette's three-point shooting ability and the kind of guy Fredette is off of the court. " He can shoot threes and he's just a good guy," Thompson said.
With the basketball season beginning, the team has already played games against Timberlake, Kellogg, St. Maries, and Priest River.
When Thompson made his first three-pointer of the season, he said he was just happy he didn't miss.
"It would've been dumb to shoot thirty-thousand threes in the summer and miss in the games," Thompson said.
Thompson is confident his practice in the summer will translate onto the court helping the basketball team to a great year.
"I can always trust Spencer to work hard and always do the right thing," Coach Leiss said, "He is a great person and excellent student. As a result of his work ethic, Spencer will be a very successful person in his days after Sandpoint High School."