Five Festive Films
The best Christmas movies to watch with your family and friends over the holiday season.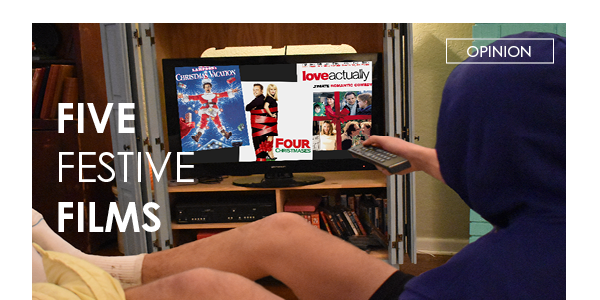 1. National Lampoon's Christmas Vacation (PG-13)
Chevy Chase stars in this hilarious Christmas classic about getting together with crazy relatives for the holidays. Chevy Chase plays the dad in the movie, Clark Griswold, as he tries to put the perfect family Christmas together with lights, decorations, and the perfect tree. The rest of his family shows up unexpectedly and sits back and watches his plans for the perfect Christmas go askew. I love this movie because of the way it depicts how crazy the holidays can be in a fun, goofy way. 
2. Four Christmases (PG-13)
The movie Four Christmases stars the actors Reese Witherspoon and Vince Vaughn as a couple who successfully avoids going home to their family for the holidays for years by going on vacation and pretending they are doing charity work. Yet this year, their plane can't take off and their family finds out about it, so they are forced to visit both of their parents. This is a great movie because their families are crazy, fun, and bring a hectic holiday spirit. 
3. Love Actually (R)
Christmas and the holidays are all about families getting together all around the world surrounded by love. This movie, Love Actually, intertwines nine different Christmas stories that focus on the main emotion that bonds all of us together, love. This movie is not only sentimental but proves the strong sense of love that spreads around the world during Christmas. 
4. How the Grinch Stole Christmas (PG)
How the Grinch Stole Christmas is a well known short classic film that is highly watched during Christmas. The main character, the Grinch, hates Christmas and everyone until he himself is loved by Cindy Loo Who. Through the love that Cindy Loo gives the Grinch, he learns that the Holidays aren't about tangible items but the wonderful feeling of being surrounded by friends and family that love you. 
5. Home Alone 1 (PG)
Home Alone is a Christmas favorite because it shows how much family means. When nine-year-old Kevin Mcallister gets left behind from his family's Christmas vacation, he is happy because he now has no rules. He has many adventures but finally realizes that he misses his family. I think this is a great Christmas movie because of the Christmas cheer it spreads and the amusing at home moments Kevin Mcallister experiences.