Naughty & Nice
A list of the positives and negatives of the holiday season.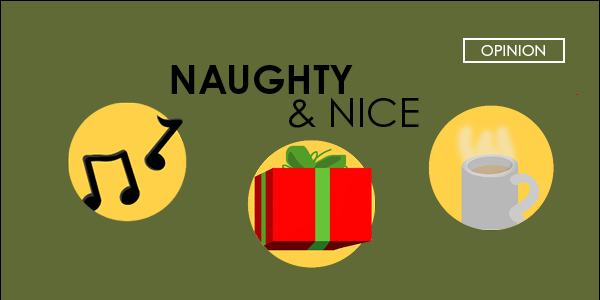 There are several great things about the holiday season, however, some choose to focus on some negative aspects of the holidays. There is a lot of hype around Christmas time as it is one of the most celebrated holidays in the world and has become more and more commercialized. Here are some things that the true meaning of Christmas has become lost behind.
Early Shopping
It's no surprise that Christmas is so popular when the shopping is done so early. There are special shopping channels to specifically help people get a head start on Christmas shopping. This makes the Christmas holiday more about the pressure on people to find the perfect gifts instead of caring about the actual meaning of Christmas which is to spend time with family and friends and be together for the holidays.
Perfect Gift Pressure
The jump on Christmas shopping adds more pressure to find the per- fect gifts for your friends and family. It is no wonder that people are super
stressed around the holidays.
Music and Ads
Radio stations like to get a head start with early Christmas music and advertisements. Some people don't like hearing Christmas music so early in the season and listening to Christmas themed ads and music before Thanksgiving is just unnecessary and annoying.
Forgetting Thanksgiving
Christmas doesn't just cause a lot of stress, it also seems to make people completely forget about other holidays surrounding it like Thanksgiving. The overshadowing of Christmas takes away from the great messages in the other holidays such as Easter, Thanksgiving, and many other holidays. Why should one Holiday dominate over all the other ones?
Remember that Christmas is about more than presents and craziness, though. It is a wonder- ful time to unwind and spend quality time with the people you love. Here are some of the great things about the holiday season you can look forward to.
Good food
There are special times in the year where you can stuff your face with a lot of great food and Christmas is one of them. Loved ones gather around the table and share the amazing food that is prepared with special care and family recipes. Also, there are lots of leftovers you can enjoy over the holiday break.
Time off
Nothing is better than getting some time off of work and school and just spending time doing fun winter activities. Students can be happy not to have homework or deal with the daily hassle of school for a little while. You have days ahead of you to just hang out in your pajamas and watch Christmas movies with the people you love.
Giving
Nothing is sweeter than watching your family's eyes light up as they open their Christmas presents. Of course Christmas isn't just about the presents, but it's nice to feel like you made others happy. The holidays are all about making others happy and making lasting memories with people.
Quality time
The whole family getting together to spend time with each other over the holidays is always the best part of Christmas. Seeing each other, watching cheesy Christmas movies, and being in each other's company is truly the best feeling\ that comes from Christmas besides eating a ton of good food and sweets.
Do not let the common negative thoughts towards the holiday season overshadow the memorable things about Christmas. Showing love and gratitude and spending time with the people that you love and care about should be the true goal of the Christmas season.