SHS TACKLES RUGBY
Rugby is introduced to Sandpoint High School as club sport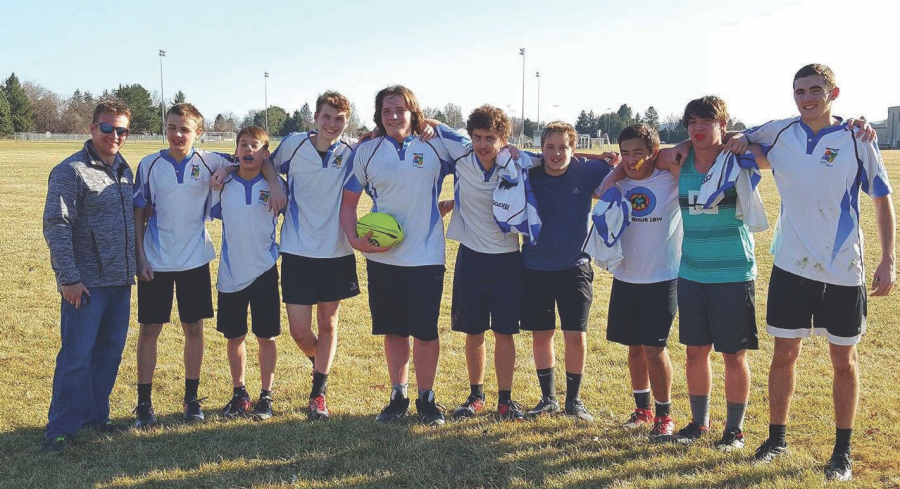 Most people think rugby is a twist on American football, but really it is the other way around. Rugby is a sport that has been played by both men and women since 1823, but recently it's gained recognition in Sandpoint by community members and students at Sandpoint High School.
Dan Chamberlain, a coach at CrossFit Sandpoint, has coached wrestling in Florida and even 7th and 8th grade football teams here in North Idaho, but he wasn't having much success. He decided to bring the non traditional sport of rugby, along with his knowledge and passion for the game, to the community while still staying connected with the students.
Chamberlain played rugby in the Navy for three years and also played semi-pro in Florida. He explained that rugby has no set body shape or personality types, but rather everyone is accepted and welcomed.
"There is a spot for everyone," Chamberlain said. "They all get to tackle, run, score points and play defense."
Junior Dylan Baillie joined the team to try something different and because he was influenced by his dad. His father grew up in South Africa playing rugby and Baillie jumped on the opportunity when the program came to Sandpoint.
"The team involvement and spirit is unlike any other sport I have ever been a part of," Baillie said.
Freshman Keith Jensen became a member of the rugby team because he wanted to try something new and he hopes that the experience will make him a better football player. However, rugby is different than most sports and can be difficult to learn.
"Learning a new sport is hard," said Jensen. "We go over the basics in practice and try to have fun while doing it."
The rugby team recently went to the Tri-Cities for a jamboree against five other teams. Since there are only 11 members, they have to play seven-a-side for half the time. Traditionally, rugby is played 15-a-side and has a running clock of 60 minutes.
"This [jamboree] gave them to opportunity to play and see what full speed rugby looks like, against kids that actually play rugby," Chamberlain said. "It was a trial by fire, but they learned real quick and got good fast."
Both Baillie and Jensen plan on playing through the rest of high school and maybe even in college. This is a fast-growing sport and gives rugby players many chances to compete in college as there are many scholarships available.
Chamberlain expressed that most collegiate rugby players started playing in college, so having the opportunity in high school will make players that much better. Chamberlain encourages anyone who is interested to try rugby.
"There is no deadline to sign up," Chamberlain said. "I guarantee you will have fun, and if it something you want to do, join the team and start playing."