COURTHOUSE DOG
New bill progresses through the Idaho legislature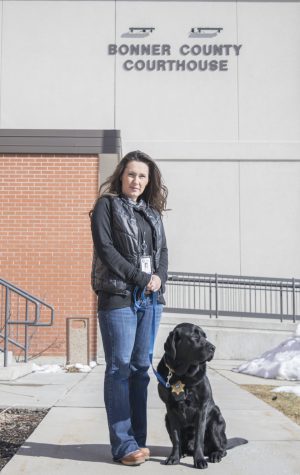 A new bill has just been passed through the Idaho state legislature regarding the use of courthouse facility dogs in Idaho courtrooms.
The bill is now awaiting a signature from Idaho Governor Butch Otter so it can become a law.
If signed, the bill would put a provision into Idaho law directly allowing the use of facility dogs at the witness stand. The bill would also allow judges to deny the use of a therapy dog but would be required to put their reasoning into writing.
The bill, co-written by Bonner County Prosecutor Louis Marshall and Idaho State Senator Shawn Keough, was passed unanimously by the Idaho State Senate.
On March 16 the bill was passed by the Idaho House of Representatives with a vote of 69-1.
A courthouse facility dog is a professionally trained dog that comforts victims while they give statements. Bonner County's facility dog, Ken, a black labrador retriever, trained to deal specifically with young victims.
Ken works and lives with Bonner County's Victims Witness Coordinator Peggy Frye. Senior Nataya Thompson has a unique relationship with Ken because he lives with her and her family.
"Ken in general is a super sweet dog. He sees people every day and although he loves everyone he meets, but I think there's always a special place in his heart for us," Thompson said.
Sen. Keough is confident that, if signed, the bill will affect her constituents in a positive way.
"The use of these dogs is in a disciplined and respectful manner that is of great assistance and comfort to children who are victims of abuse and other horrific and difficult crimes and challenges," Keough said.