SPORTING SACRIFICES
Student athletes spending winter break in the gym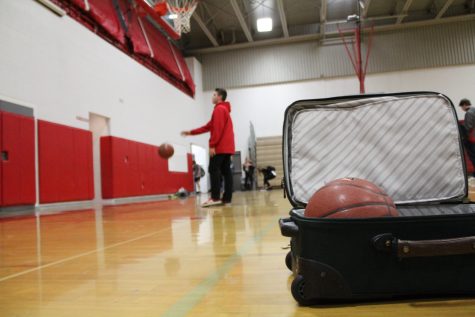 Athletes are always expected to sacrifice for the sake of their sports, and for winter athletes, that means sacrificing time over holiday vacation.
While fall athletes practice throughout the summer and participate in daily doubles, winter athletes often train year-round in addition to dedicating lots of time during winter break.
Because so many athletic programs at the high school continue to practice and compete during Christmas break, it can be very difficult or impossible for athletes and their families to take vacations without missing their sport.
"You can [take a vacation], but our coach is not very happy about it and it does affect your playing time," junior basketball player Danika Tomazich said.
"I think it's kind of asking a lot, but I also believe that it teaches you dedication. It is worth it, I believe, because you work for it, and then you deserve it in the end if you work for it as hard as you do. It ends up being worth it when it comes to games, but it kind of takes up a lot of free time," Tomazich said.
Both boy's and girl's basketball teams have a hefty schedule lined up over Christmas break. The boys' team has Christmas Eve as well as Christmas Day off before they compete in a three day tournament immediately thereafter.
"If you want to have a good basketball program, you cannot shut down your basketball program over Christmas or Thanksgiving break," boy's basketball coach Kent Leiss said.
"The football team gives up 4 weeks of their summer to get ready for the season.  If you want to be good, you need to practice," Leiss said.
Leiss explained that in his first year of coaching at Sandpoint, 20 of 35 athletes took a holiday vacation. By his second, it was down to 10. This year, only two players of 33 missed a practice during Thanksgiving break.
"Do I think it is fair for high school athletes to sacrifice time for their sport?  Yes, if they want to be successful.  When you enter the real world you don't spend half your time on vacation," Leiss said.
Club athletes currently in season will also be spending time in the gym or on the field, though their time investments will be less strenuous as athletes competing through the school.
"I'm happy that I don't always have to be in the gym, because then I can actually enjoy my break with my friends and family for the winter," freshman club volleyball player Darby Robinson said.
"I don't think [winter sport coaches are] asking too much because I think our school is trying to improve our sports and trying to make our athletes be better, and push them to their limits," Robinson said.