THE UNBREAKABLE BONDS
Relationships are key to a successful athletic program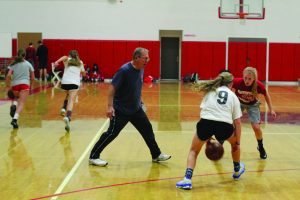 Building positive relationships is no easy task, but sometimes all it takes is something simple, like a road trip. Such is the case for the wrestling team, who forged bonds during long trips to summer camps.
"When you take a road trip with somebody, you usually get to know them because you're in close quarters," teacher and wrestling coach Jacob Stark said.
While the bonds that athletes share with one another on the court, mat, field, or track are essential in defining a team's culture, these relationships between coaches and athletes are the cornerstone of any successful  program.
Stark, who will be going into his 14th year of coaching this season, regards this player-coach bond as very important.
"I think [the relationship] is huge between a coach and a student athlete. It's a big motivator, especially when the coach is in the school as a teacher,"  Stark said. "It makes a huge difference because you get to see your athletes every day, checking up on how they're doing with homework or…if they need help with anything."
According to sports psychology professor Sophia Jowett of Loughbrough University, effective coach–athlete relationships emphasize positive growth and development (i.e. 'being the best you can be') as an athlete/coach and as a person.
Girls basketball coach Duane Ward, who has been coaching since 1966, agrees that coach-athlete relationships are essential to the success of teams as well as the success of individual players.
"First of all, as a coach, you have to realize that it's about the kids-not about you," Ward said.
The foundation of Ward's coaching philosophy is honesty.
"You have to be completely honest with every kid that you coach. I think that they respect that, and like that. Even though at times you may have to tell them some things that they don't want to hear, they still appreciate it," Ward said.
Often, coaches act as more than just coaches to the athletes that they coach; they can also act as mentors and friends. Many student athletes named their coaches as their trusted adults on the paper hands the mentors program used to decorate the halls.
Junior athlete Preston Pettit was coached and mentored by teacher Scott Fitchett throughout his years in the baseball program.
"[Fitchett] was the type of guy I could approach with any question on or off the field," Pettit said. "Although I really liked Fitchett [as a coach], I'm not opposed to having a new coach since it will allow me to acquire different points of views and ideas that are unique to every coach."
The bonds between coaches and players helps to feed into an athlete's commitment and dedication to their sport.
Junior cross country and track athlete Katherine Kaul draws motivation from the positive relationships that she shares with her coaches.
"If you're doing something challenging, it helps to give you motivation like 'oh, I'll do it for the coaches,'" Kaul said.
The strength of these important relationships positively enriches the experiences of athletes as individuals, as well as the success of teams as a whole.