GOING CLUBBING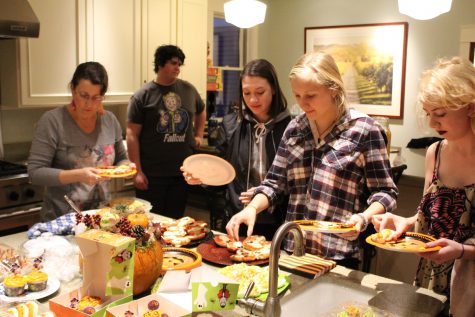 The Sandpoint High School French Club allows students to experience another culture and interact over various movies, food, and activities.
Students do not have to speak French in order to partake in the club; in fact, there are several students with no French experience and several students who are currently enrolled in Spanish classes.
Emma Reed, the president of the club, states that she loves the people in French Club.
"Everyone is very nice and passionate about the club, whether it be to improve their French or to learn about other cultures!" Reed said.
French Club activities typically give students an avenue to explore French traditions through various mediums such as food and film.
In November, members joined together to engage in Canada night because French is one of the official languages of Canada.
Members ate a dish called Poutine, fries with gravy and cheese curds, and watched a Canadian movie.
Reed's favorite French Club activity was crêpe night because she learned to make crêpes, thin pancakes filled with savory or sweet foods.
The themed nights are usually potlucks held at a member's house. For crêpe night, everyone brought a filling such as fruit, cream, or cheese.
For Canada night members tried to bring foods relating to Canada, such as maple leaf cookies.
French Club meets on Mondays  that are B days during access in room W8, and anyone can attend.
"It's for everyone! You don't need to be a French student, or even a language learner at all," Reed said."
The next French Club activity is a fondue night to be held in mid-December.
Members will bring foods to dip in cheese and chocolate fondues and will vote on a movie to watch.
The movies are typically French films (with subtitles for those who are not fluent), but this movie night is not specifically associated with a French-speaking country and therefore will be chosen by the members.
Students can stop by W8 for more details on joining French Club.