A KILLER SEASON
Varsity close on and off the season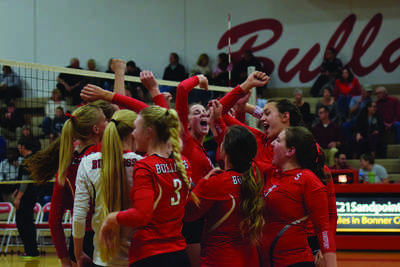 After countless early mornings and late evenings in the gym, the varsity volleyball team is not only a team, but more of a family.
While the players are forced together in countless hours of practices and games, they also voluntarily spend time with one another outside of the sport.
"[The culture] is different than last year," junior Alexis Davis said. "We do everything together, and even though that can be a little time consuming, it's made us closer, and made it so that we can talk about other things that we may not have."
Many of the girls had played with one another for years prior to this season.
Thanks to this inclusive team culture, the team has had a fierce competitive season, led by senior team captains  Laney Search, Kayla Neumann, and Cheyenne Nicholson.
Many tears were shed at senior night, seniors celebrated their extended love of the sport and took a moment to look back at their years as Sandpoint athletes.
"I feel like this year is the closest I've ever been with a team," Neumann said. "When I go to practice and games, I really want to work hard for [my teammates] because I care about them."
Neumann and Search both plan to continue to play at the collegiate level next fall.
"Going on to a different team, I know I'm going to miss being able to step on the court with these people," Neumann said.
Regardless of the girls' performance at the state tournament at the end of the month, this season inarguably marked a year of immense improvement throughout the program, and a big step closer to the competitive reputation it has had in years past.