Ukraine Foreign Exchange Student: Her Story
An in depth look at exchange student Viktoriia Synovyd and her time in Sandpoint.
For most people being away from close family during stressful or hard times can be a struggle. For Sandpoint High School exchange student, Viktoriia Synovyd this is currently her reality. Synovyd lives in the capital city of Ukraine – Kyiv. Although she is safe her family is still living in the madness that Putin's war on Ukraine has brought. "It is hard for me right now, being here on the other side of the world and knowing that my close family is back in Ukraine. The most stressful thing is probably not being able to help them and just be with them right now." Synovyd says to try to ease her mind she keeps up with current news and events and stays in touch with her family every day. "War is something you can not get used to. It's been (12) days since it started, but I still feel the same way." When the war started Synovyd's parents wanted to shelter her from their harsh reality, but they soon realized that this was not the way. "The first 4 days my parents refused to talk to me because they didn't want to make me traumatized, but now that they realize honest communication is better, they let me know about what's happening there." Synovyd says that although being away from her family during this time is challenging she has received lots of support from her friends in Sandpoint.
Synovyd continued on to talk about her life in Ukraine and how different it is from living in the United States. "In Ukraine we walk a lot. Teenagers don't drive till the age of 18, so every single day I would just go on a walk with my friends, explore new places, find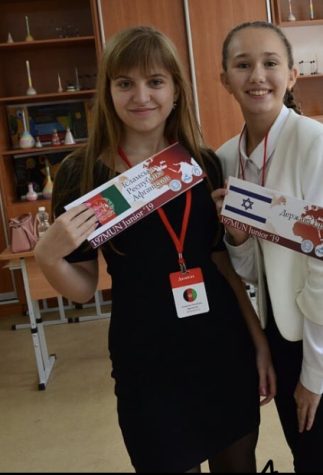 adventures and enjoy the crowd of people." As you can imagine, the atmosphere of living in Ukraine and in the United States are quite different. "You don't notice the people around you – no one does. You're in your own little bubble, listening to a bunch of street musicians. And then once you walk, there are hundreds of coffee places and bakeries with traditional Ukrainian pastries. You just enjoy the view and all the pretty European buildings downtown that were mostly built centuries ago." Although Synovyd loves Ukraine, the United States has become her second home and she is happy that through the exchange program she ended up in Sandpoint. "It is an incredible place with unique nature that made me realize that sometimes I should just stop, take a break from my busy life and enjoy the view. I think the US is also a place full of opportunities for me. And last, but not least, I love people here. At first, I was surprised, but then I realized that everyone is genuinely nice and has good intentions. Most importantly – I will never ever forget my experience here!"