A Season to Remember
A recap of SHS's 2021 football season coming to an end.
The SHS boys football program at Sandpoint High School had a season they will never forget. The team made it all the way to the 4A state championship yet suffered a disappointing loss. Reflecting back on the regular season, Head Coach Ryan Knowles, stated "it was successful".. The bulldogs achieved three of their four goals this year. The first goal the team had was to win against Post Falls which they did with a score of 35-7. Next they wanted to play well in non-conference and achieve a top 4 seeding for the playoffs. Goal three was to be undefeated in conference play which was achieved by out-scoring Moscow and Lakeland 78-16. Finally, goal four was so close to being achieved but Sandpoint came up short in the State Title game.
The loss of the championship was hard for the bulldogs for they almost brought back Sandpoint's second State Title in Football. Knowles, recalling the postseason that led his team to state, said "that it was exciting to play in front of the home crowd three times and it just brought a different atmosphere than during the regular season."He also stated "that the postseason was disappointing and to come up 14 points short in the state title game was impressive and disappointing but the Seniors last year and this have raised the bar from classes after us."
All in all, the Varsity Bulldogs football season pushed the team and helped them grow overall to prepare for seasons to come. Even though they didn't get the result they wanted when it came down to the final championship game they got an experience that they will never forget. It was truly a season to remember.
About the Writer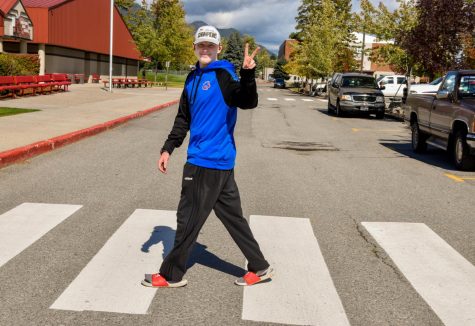 Nate Blagrove, Content Gatherer
What is a catchphrase you always use?

I didn't do it

What is your dream career?

My Dream career is being an sports analyst which is someone keeps...