A Batch Made in Heaven: Cookie Time
A review of Mrs. Auld's Molasses Cookies.
Hello prospective bakers! This is a Batch Made in Heaven. We are Ellen Clark and Connor Bird and we're here to bake and give our reviews on the recipes' of SHS teachers. Here is our review of Mrs. Auld's molasses cookies.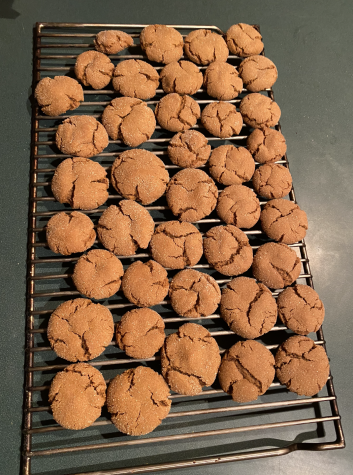 Directions:
Set oven to 375
Bake 8-10 minutes
Mix
¾ cup shortening
1 cup of sugar
¼ cup of molasses
1 egg
Add
2 cups of flour
2 tsp of baking soda
½ tsp of cloves
½ tsp of ginger
1 tsp of cinnamon 
½ tsp of salt
Form 1 inch balls, roll in raw sugar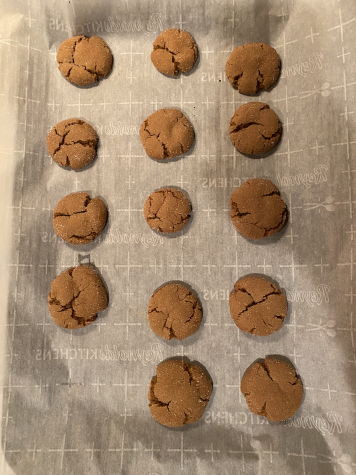 Review:
Mrs. Auld's Molasses Cookies were very yummy and easy to make. At first we were skeptical of the molasses flavor, as it was Connor's first time having a molasses cookie. However, the cookies turned out quite delicious. They were sweet, but also had a little spice to make the pallet more exciting. Here are our thoughts:
Difficulty to make: 9/10
These cookies were easy to make. Pretty straightforward baking. Just mixed the wet and dry ingredients and baked those baddies. The only difficulty was that some of the ingredients were uncommon. Ginger, cloves, or molasses aren't in everyone's cabinet so these cookies may not be accessible to everyone. 
Taste: 7/10
The cookies were yummy. They tasted reminiscent of holiday cookies, with a little spice to shake up the sweetness. They tasted similar to a gingersnap, but also had a really strong molasses flavor. Overall, the flavor wasn't exceptional, but they were good cookies. 
Time to make: 8/10
We had to do them in batches because the batter made so many cookies, and it took about 8-9 minutes for each batch, which made about a million cookies. If you were to make a smaller batch, or bake multiple batches at once it would take a lot less time. 
Look: 6/10
They looked good, but they weren't the most beautiful dessert. They were just little brown cookies, coated in sugar. Their sugar coating did give them a bit of sparkle, making them stand out a little more. Their look was definitely not as good as their taste.  
Overall: 
Overall, we would recommend baking these cookies. If you are nostalgic for the holiday season, these cookies would be a great bake. They are easy to make, taste good, and as long as Gordon Ramsey isn't critiquing the appearance, they're a simple treat.