DANCING TO A NEW BEAT
Lily Waldrup expresses herself through a unique dance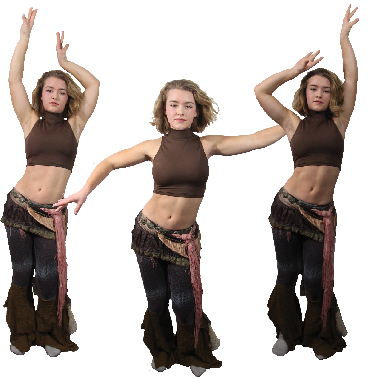 Considered to be the oldest known dance by some experts, belly dancing is a common dance among women in the Middle East, Mediterranean, and northeastern Africa.
Some sources claim that the pyramid builders in ancient Egypt were belly dancers. In most cultures, the dance was traditionally performed for other women, usually during formal events such as pre-marriage ceremonies. African women would sometimes perform in street markets or other public venues trying to earn coins for their dowries. The women would sew these coins onto their clothing for safe keeping, creating the style of garment most would relate to belly dancing today. Typically, belly dancing costumes consist of vibrantly colored scarves, veils, and coins.
Modern and traditional belly dancing is often performed barefoot.
Although it's origins come from these middle eastern places, people all over the world practice the art of belly dancing.
One member of the SHS Dance Team, Lily Waldrup, started to teach herself the talent about two years ago. More recently, she has taken up classes with an instructor to become better. Waldrup has been dancing for four years, learning multiple styles of dance.
Today belly dancing is still used as a celebration of heritage and a form of expression, but in the United States it is more commonly used as a way to get some exercise.
"My favorite thing about dancing is being able to express my emotions through physical activity and gaining more and more body control," said Waldrup.