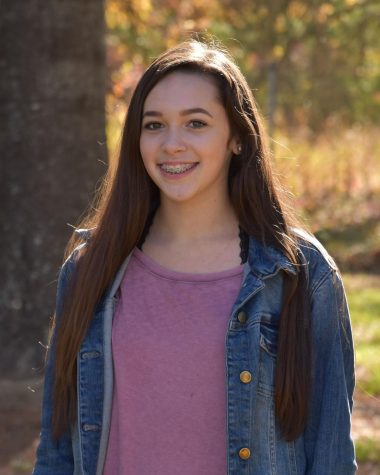 Molly Balison is a sophomore and it is her first year on staff. Here are some fun facts about Molly.
If you had to describe your life in one word, what would it be?
My life summed up in a word: complicated.
What takes up too much of your time?
Thinking about all the things I have to do but watching Friends instead takes up an unhealthy amount of my time.
Where do you see yourself in 5 years?
5 years from now, I'm going to be having the time of my life in college and living on my own in Boise.
Molly Balison, Web Staff
May 15, 2019

SCHOENING VISITS SHS

(Story)

Apr 29, 2019

STATEMENTS OF SPIRITUALITY

(Story/Media)

Apr 21, 2019

LEADING LACROSSE

(Story/Media)

Mar 28, 2019

READY FOR RETIREMENT

(Story)

Mar 03, 2019

SCHOOL-WIDE KINDNESS

(Story/Media)

Jan 29, 2019

SANDPOINT HUMAN RIGHTS ART EXHIBIT

(Story)

Jan 25, 2019

THE (ART)ICLES

(Story/Media)

Jan 13, 2019

NEW YEAR, BETTER RESOLUTIONS

(Story)

Jan 06, 2019

HEROES OF THE KITCHEN

(Story)

Dec 24, 2018

COLUMN: SEASON'S GREETINGS

(Story)

Dec 05, 2018
Dec 01, 2018

GIRL'S BASKETBALL VS TIMBERLAKE

(Story/Media)

Nov 15, 2018

2018 SARS SKI SWAP

(Story/Media)

Nov 06, 2018

DEFYING THE STANDARDS

(Story)

Oct 31, 2018

HARVESTING HAPPINESS

(Story)

Oct 03, 2018

THE "S" IN SANDPOINT

(Story)

Sep 30, 2018

LAST MINUTE HOCO PROPOSAL IDEAS

(Story)

Sep 26, 2018

RESTAURANT RANKINGS

(Story)

Sep 16, 2018

STUDENTS ON A MISSION

(Story)