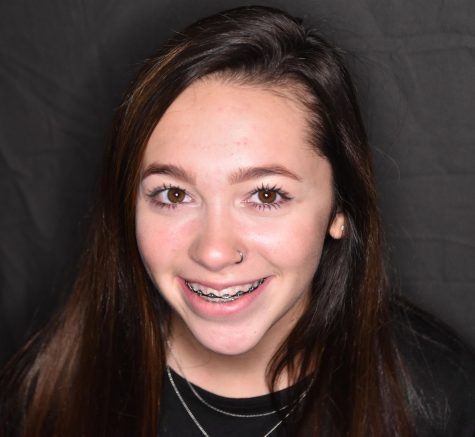 What takes up too much of your time?
Thinking about all the things I have to do but watching Friends instead takes up an unhealthy amount of my time.
What's your guilty pleasure? 
I secretly can't help dancing a little to 80's hits.
If you had to describe your life in one word, what would it be?
My life summed up in one word: complicated.
What are you freakishly good at? 
I'm freakishly good at overloading my schedule and somehow getting everything done...my secret is not sleeping.
Molly Balison, Lifestyle Editor
Jun 02, 2020

BACK OPEN FOR BUSINESS

(Story/Media)

May 26, 2020

SAYING GOODBYE TO SANDPOINT SPORTS

(Story)

May 14, 2020

IMPROVE YOUR MENTAL HEALTH AT HOME

(Story/Media)

May 01, 2020

CONNECTING … WHILE DISTANCING

(Story/Media)

Apr 17, 2020

10 SIGNS OF QUARANTINE BOREDOM

(Story/Media)

Apr 13, 2020

STUDENTS REACT TO SAT POSTPONEMENT

(Story/Media)

Apr 09, 2020

EXTENDED SOFT CLOSURE

(Story)

Mar 23, 2020
Mar 21, 2020

CORONAVIRUS VS. CURRICULUM

(Story/Media)

Mar 16, 2020

MEET THE DISTINGUISHED YOUNG WOMEN

(Story/Media)

Feb 28, 2020

STARTER PACK: AP KIDS

(Story)

Feb 22, 2020

2020 STUDENT ART SHOW

(Story)

Feb 06, 2020

COLD BUSTERS

(Story/Media)

Jan 23, 2020

HUMAN RIGHTS ART SHOW

(Story/Media)

Dec 26, 2019

POST-CHRISTMAS PLANS

(Story)

Dec 18, 2019

TEEN COLLEGE STUDENT

(Story)

Dec 11, 2019

"THIS CHRISTMAS NIGHT": A PRODUCTION IN THE MAKING

(Story/Media)

Nov 08, 2019

SANDPOINT'S PASSION FOR THE PLANET

(Story/Media)

Oct 09, 2019

2019 HOCO ASSEMBLY

(Story)

Sep 28, 2019

FALL SPORTS: 2019 EDITION

(Story)

Sep 16, 2019
Sep 12, 2019

BOY'S SOCCER TAKES DOWN LAKELAND

(Story/Media)

May 15, 2019

SCHOENING VISITS SHS

(Story)

Apr 29, 2019

STATEMENTS OF SPIRITUALITY

(Story/Media)

Apr 21, 2019

LEADING LACROSSE

(Story/Media)

Mar 28, 2019

READY FOR RETIREMENT

(Story)

Mar 03, 2019

SCHOOL-WIDE KINDNESS

(Story/Media)

Jan 29, 2019

SANDPOINT HUMAN RIGHTS ART EXHIBIT

(Story)

Jan 25, 2019

THE (ART)ICLES

(Story/Media)

Jan 13, 2019

NEW YEAR, BETTER RESOLUTIONS

(Story)

Jan 06, 2019

HEROES OF THE KITCHEN

(Story)

Dec 24, 2018

COLUMN: SEASON'S GREETINGS

(Story)

Dec 05, 2018
Dec 01, 2018

GIRL'S BASKETBALL VS TIMBERLAKE

(Story/Media)

Nov 15, 2018

2018 SARS SKI SWAP

(Story/Media)

Nov 06, 2018

DEFYING THE STANDARDS

(Story)

Oct 31, 2018

HARVESTING HAPPINESS

(Story)

Oct 03, 2018

THE "S" IN SANDPOINT

(Story)

Sep 30, 2018

LAST MINUTE HOCO PROPOSAL IDEAS

(Story)

Sep 26, 2018

RESTAURANT RANKINGS

(Story)

Sep 16, 2018

STUDENTS ON A MISSION

(Story)