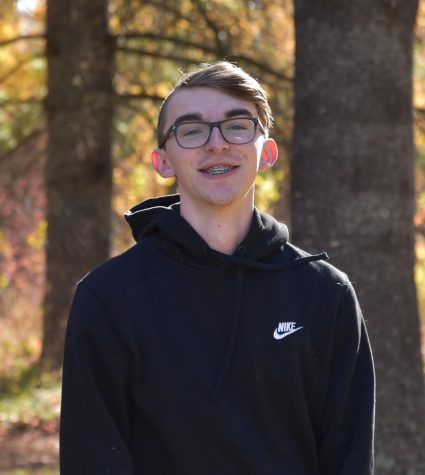 Joe Parsley is a junior and it is his first year on staff. Here are some fun facts about Joe.
What are you freakishly bad at?
Hitting a baseball. It could be on a tee and I would still miss it.
Where do you see yourself in 5 years?
Graduating from college and going into a field that my degree won't help me with.
What's the first thing you do when you get out of bed?
Sit at the edge of my bed for 5 minutes trying to wake up.
Joe Parsley, Web Editor
Apr 10, 2019

WHY 90 MINUTES IS RIGHT

(Story)

Mar 19, 2019

THE CINDERELLAS IN MARCH

(Story/Media)

Feb 13, 2019

BIANNUAL SUPLEMENTAL LEVY

(Story)

Jan 31, 2019

GIRL'S BASKETBALL VS LAKELAND

(Story/Media)

Jan 28, 2019

CONSPIRACY CORNER: DENVER INTERNATIONAL AIRPORT

(Story)

Dec 18, 2018

PADDLE PREPARATION

(Story)

Nov 30, 2018

CONSPIRACY CORNER: ARE ALIENS REAL?

(Story)

Nov 05, 2018

CONSPIRACY CORNER: AREA…52?

(Story)

Sep 17, 2018
Sep 27, 2017

LESS TEACHING, MORE LEARNING

(Media)