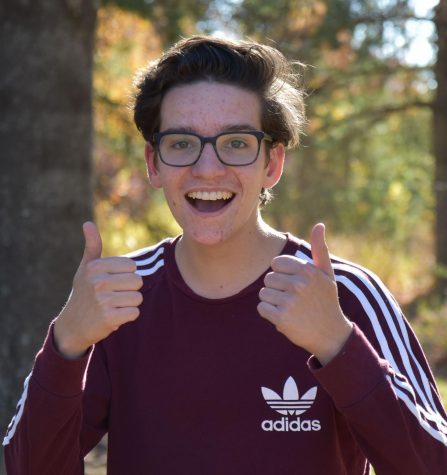 Connor Bird is a sophomore and it is his first year on staff. Here are some fun facts about Connor.
What's your guilty pleasure?
I really like older music, but I don't to show it off to much. Tom Petty and Bob Dylan are actually some of my favorite artists. When I need to relax and study, I just turn on some old jams and grind out my work.
What part of the human face is your favorite?
I like peoples hair. I like how they can style it however they want, and someone's hair can really tell you a lot about their personality and what kind of person they are.
What are you freakishly good at?
I'm really good at memorizing song lyrics. I can hear a song two or three times, and already know most of the lyrics.
Connor Bird, Sports Editor
Jun 07, 2019
May 13, 2019

THE THRILL OF THE CATCH

(Story)

May 09, 2019

CPODCAST: TEACHER APPRECIATION DAY

(Story)

May 01, 2019

CPODCAST: DECLARATION DAY

(Story)

Apr 26, 2019

CPODCAST: MUHAMMAD FISH

(Media)

Apr 20, 2019

STUNTED SEASON

(Story/Media)

Apr 19, 2019

CPODCAST: SHAWN WOODWARD

(Story)

Apr 12, 2019

AS CLEAR AS A BELL

(Story)

Mar 07, 2019

ON THE RIGHT COURSE

(Story)

Feb 20, 2019

1 MINUTE DEBATE: PIE V. CAKE

(Story)

Feb 01, 2019

J. COLE "MIDDLE CHILD" REVIEW

(Story)

Jan 15, 2019

GIRL'S BASKETBALL BEATS MOSCOW

(Story)

Dec 23, 2018

ON THE HOUSE: CHRISTMAS EDITION

(Story)

Dec 19, 2018

CP INTERVIEW: MIKE SMITH

(Story)

Nov 27, 2018

2018 BOY'S BASKETBALL PREVIEW

(Story)

Nov 19, 2018

TRIBUTE TO THE TURKEY

(Story)

Nov 12, 2018

VETERAN'S DAY ASSEMBLY

(Story)

Nov 08, 2018
Nov 08, 2018
Nov 08, 2018

VOLLEYBALL VERDICT

(Story)

Oct 22, 2018

GIRL'S SOCCER PLACES AT STATE

(Story)

Oct 01, 2018
Sep 11, 2018

TESTING LIFE HACKS

(Story)

Sep 07, 2018

SPORTS PREVIEW: VARSITY FOOTBALL

(Story)