WINTER DRIVING TIPS
Ways to avoid slipping up on the icy roads
Hang on for a minute...we're trying to find some more stories you might like.
As the middle of winter arrives and Bonner County continues to be hammered by snow, high schoolers must deal with the difficulties of winter driving. Though many upperclassmen have experience driving on wintery roads, some new drivers or those inexperienced with snow do not know the nuances associated with winter driving. For those who have not experienced winter driving or who just want to improve, these tips will hopefully keep you on the road through winter.
Have good winter tires
If your car feels as though it is slipping often on the icy roads, it may be because your tires are worn or you don't have the right tires. Make sure you check the tread on your tires if you feel a lack of grip, and if it is low, try to get new tires. Bald tires can make braking extremely difficult, which makes driving dangerous, both to yourself and to others. If you have a four or all-wheel-drive vehicle, you can usually get away with all-season tires, but two-wheel-drive cars typically need winter tires with studs.
Know the behavior of your car
Every vehicle handles the snow differently. A vehicle with four-wheel drive, for example, will handle the snow much better than one with either front or rear-wheel drive. Some accelerate faster than others, and some have more sensitive brakes. Knowing your car's individual habits is crucial to driving safely. If your car has more sensitive brakes, for instance, you will want to be more careful on your brakes so you do not brake too hard and spin out. If you are driving in a car for the first time in the snow, test it out by starting slower than you normally would and be gentle on the brakes and gas. As you feel more and more comfortable, continuously up the speed until you find something comfortable.
Go easy on the brakes
Though brakes are extremely important, you should be careful to not use them too much. Sliding tends to happen when you brake, and if you are sliding, braking can make it worse. Instead of braking, take your foot off of the gas to slow down, and when you go into a turn, brake before you start turning so you don't have to while you turn, as braking during a turn can easily cause a spin-out. Make sure that you do brake when going down hills, however, or else you may lose control of your car.
Don't drive faster than you feel comfortable
If you feel as though you are driving too fast, it's probably because you're driving too fast. Drivers can feel the behavior of their car as they drive it, so if they feel a bit out-of-control, the car may not have good traction. Even if you are going under the speed limit, still don't drive faster than you feel comfortable. If you are a beginning driver, you are probably playing it safe, and as you become more experienced and understand the behavior of your car better, you will find yourself going faster and being more comfortable.
Accelerate up hills
If it is icy on the road, you may feel unsafe accelerating, but when you are driving up hills, it is a necessity. A car that does not accelerate or even brakes on a hill can lose traction, causing it to roll backwards. Additionally a car going slowly up a hill can cause the cars behind it to lose traction, as they may not be as good on ice. As long as you are not going uncontrollably fast, you should continue to accelerate up a hill. If you are on a switchback, brake so you go slowly into the turn and then accelerate up the hill.
As long as you remember at least a few of these tips, you should be good when driving in the snow. If you do end up spinning out, as often happens regardless of driving expertise, remember to turn your wheel in the direction of the spin in order to minimize the spin-out. Also, remember to keep essential items, such as food water, blankets, basic tools, and a flashlight in case you get stuck. Most importantly, stay in your lane and drive safe!

About the Writer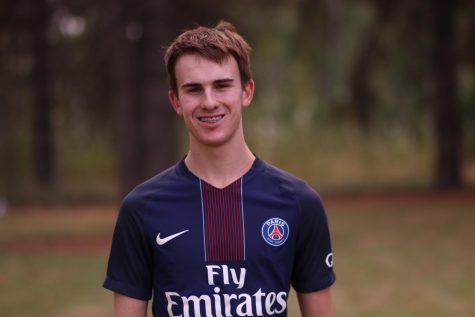 Sam Hendricks, Sports Editor
Sam Hendricks is a senior and it is his second year on staff. He is a sports editor.