TEACHER WITH TATTOOS
Staff members share stories behind their ink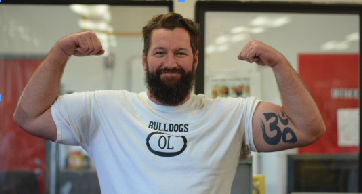 Hang on for a minute...we're trying to find some more stories you might like.
Many teachers have tattoos that their students don't know about. Some try to cover them up at school, while some just don't make theirs known. Five teachers at the school shared what their tattoos are and the meaning behind them.
Heather Dinkins: She has two tattoos, located on her wrist and ankle. Dinkins described her ankle tattoo as "a typical white girl tattoo." "I got it when I was 18 and it meant that I was flying away from home." Contrasting her acceptance of leaving home, her other tattoo is the word 'Cherish' on her wrist. "It means cherish every moment" Dinkins said.
George Yarno: He has his name tattooed on his back. "All of my siblings have that tattooed somewhere on their bodies so it's kind of a sibling thing," Yarno said. He plans to follow up with a family tree below, covering his entire back. Yarno also has the symbol for namaste on his left bicep. "Just to remind me to be at peace with things," he said. "The one on my back, I was 17 so it's been 17 years. And the one inside my left bicep, I got the summer of 2014."
Wendy Auld: She has a smudge on her toe. "It's really embarrassing, I was going to have a Celtic knot toe ring that looked like the block letters for the college I went to," Auld said. The tattooing was so painful that she never completed her session. "I was in the Long Bridge Swim the next day… and I got it wet and it smudged," she said. She affirmed that she has minimal regrets about the tattoo. "I mean, not enough to go pay $10,000 to get it removed or something."
Trina Kennedy: She has two tattoos,  one on her back of the Japanese symbol for trust and two horse heads in the yin and  yang. "Those are the two things I struggle with most in my life: trusting myself and creating balance," Kennedy said. "[I got] my first tattoo, the one on my ankle at 35, and the next one, I was 37." She said that she considered the tattoos at length before getting them because of their permanence.
Tish Mullen: She had a tattoo covered up and it is now a big koi fish. "The original tattoo was a little tree frog because I was into frogs and I got it done when I was 18," Mullen said. However, she offered some sage advice for any student inspired to get some tattoos of their own. "Getting a tattoo just because you're old enough to get a tattoo is not a good plan. You need to find a good artist, figure out what you really want, make sure it's in a good spot, especially if you're going to try to be professional, it's in a place you can put away," she said.

About the Writer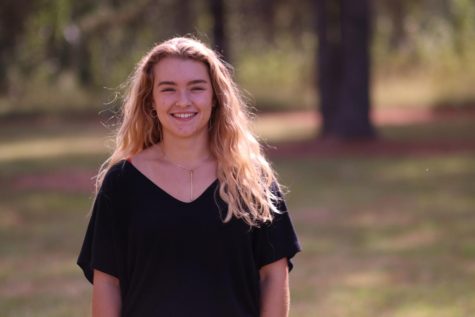 Lily Waldrup, Business Manager
Lily Waldrup is a senior and it was her first year on staff.  She was the business manager.