BREAST CANCER AWARENESS NIGHT
A look at the inspiration behind basketball's "pink night"
Hang on for a minute...we're trying to find some more stories you might like.
Tuesday, Jan. 9, Sandpoint students and community members came together to raise money for the Celebrate Life Organization at the SHS basketball's breast cancer awareness night.
The "Pink Night" was inspired by the breast cancer diagnosis of Maryland Ward, wife of the girl's basketball coach Duane Ward.
"We wanted to honor her because she's been such a big contributor behind the scenes to basketball,"  assistant coach William Love said.
"As soon as I found out [Maryland's diagnosis] I thought I'd love to do this, and in the back of my mind since I've started coaching girls basketball, I've always thought this would be a cool thing to do," Love said. "One of the things about the Ward's is that they're such giving people and we wanted to make this a night where they could come and see everybody's support."
This night not only held a special value for Coach Ward and his family, but also for some of the players. Senior Grace Kirscher, felt that the community could benefit from this event.
"Breast cancer is pretty well-known, but it's just not talked about enough. I think it's good to bring it up in a public environment," Kirscher said.
Organizations such as Bonner General Health were in attendance, providing people with information about testing and health care opportunities.
The Celebrate Life Organization was also an integral part of the evening, as the proceeds raised went directly to the Celebrate Life charity. The team chose this organization in particular with a desire to honor Jenny Jacobsen, former Sandpoint High School basketball player, and the inspiration behind the Celebrate Life.
"If we were going to make any money, we wanted that money to go to [Celebrate Life] because that's also an organization the Ward's are passionate about," Love said. "It was just a natural fit to pick that organization because of their mission and also the Jacobsen's background and participation in Sandpoint Basketball."

About the Writer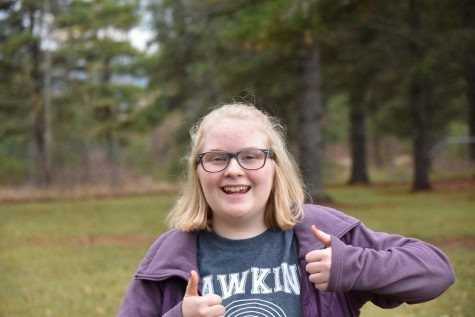 Corinne Capodagli, Editor-in-Chief
Corinne Capodagli is a senior and it is her second year on staff. Here are some fun facts about Corinne.

What word do you repeat at least 10 times a...