Local Group Protests Mask Mandate
Anti-mask protestors spread their message in front of Sandpoint High School.
The national protests over mask mandates has made its way to 410 S. Division Street. 
Last Monday and Friday, a group of students, parents, and community members gathered outside of Sandpoint High and Sandpoint Middle Schools last Monday and Friday to protest the mask-wearing mandate that has been placed on the schools. 
"I want to give the children a right, a voice, a right to choose," said Bre Barnes, a mother and organizer of the mask protests.
Barnes pointed to her experience in the Army where soldiers are not given a lot of choice as one reason why she is protesting.
"I feel like in the military there were a lot of things that were dictated down to us" she said, "and we didn't have a choice in a lot of the things that we did."
She said that the mask mandate raises a lot of the same issues. Barnes wants to help "empower our youth" because "with that mask on their face, I mean, I just feel like it crushes their soul."
Barnes says that after hearing some kids at games upset because they had to wear masks, some parents organized a group called Peoples Rights to try to change the Lake Pend Oreille School District policy. The policy instituted as a result of the coronavirus pandemic requires students, staff and visitors to wear masks during school hours unless they have a medical condition.
Barnes said the group is filled with people "who love America and their freedoms."
To help spread their message the group plans to protest outside of the school every Monday and Friday at 1 p.m. The school day ends at 1:10 for students.
Barnes hopes that the protests will help give students the choice of wearing a mask at school.
"If you want to wear a mask, wear a mask," Barnes said. "If you don't want to wear a mask, don't wear a mask."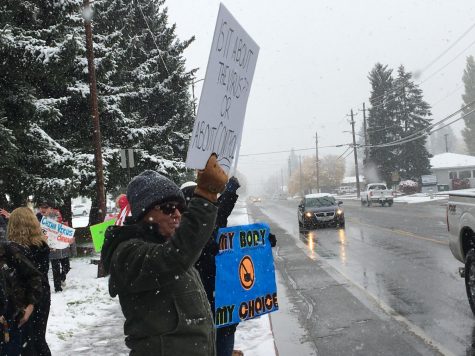 Anti-mass protests like this one have been happening all throughout the country. Many protestors agree with Barnes's statement that "there is no science proving the mask works." The World Health Organization, however, has repeatedly issued directives urging people to wear facemasks in public to help stop the spread of COVID-19. 
From the school's administration standpoint, controversial issues, such as the mask mandate, must be handled carefully.
"Protesting is a cool aspect of the way our society works," Educational Assistant Michael Martz said. "We have the freedom to speak out against things that we don't believe in."
Martz has no problem with the protests taking place outside of the High School as long as the protestors, "don't disrupt the education of other people within the school."
Martz said that the school will continue to allow the protests "to the degree that it's legal." 
About the Contributor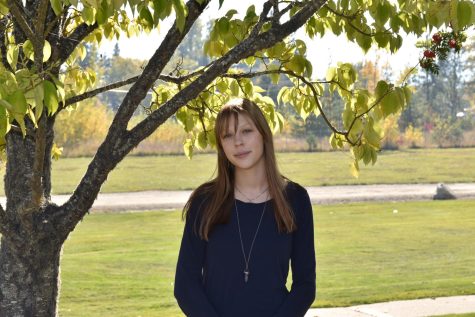 Lucy Allen, Editor-In-Chief
What is your favorite color?

Pink

What is the most underrated movie?

Howls moving castle

What is one word that best describes your life?

Groovy